In the middle of March, Irish renewable energy company Gaelectric announced that it has entered into a strategic partnership with French outfit Ideol to develop a number of floating offshore wind energy projects around Ireland.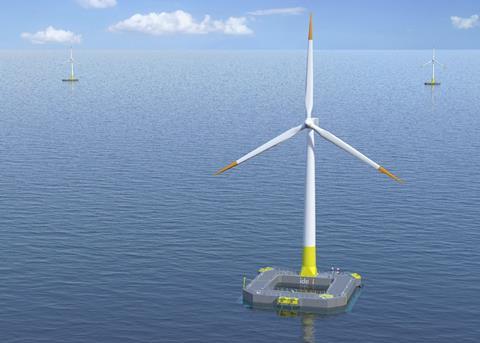 According to Bruno Geschier, Chief Sales and Marketing Officer at Ideol, the move was prompted by the fact that Ireland benefits from 'outstanding offshore wind resources' - offering a 'unique potential to develop commercial-scale arrays off the Irish coasts.'
The hope is that a combination of Gaelectric's extensive experience and know-how with wind development projects and Ideol's innovative floating technology - capable of installation in both deep and shallow waters - will help to kick start a successful move into the Irish offshore market.
The Ideol floating devices are based on patented 'damping pool' technology that Geschier says basically translates into 'a square ring structure' that is 'dimensioned and engineered to suit project-specific environmental conditions and wind turbine specifications.'
"A piston movement inside of the pool acts in opposition with the surrounding sea movements and stabilizes the entire structure," he says.
DAMPING POOL TECHNOLOGY
In Geschier's view, one of the key advantages of using the Damping Pool technology in floating offshore wind farms is the fact that it is designed to include the 'highest level of local content' and 'can be built by local civil contracting firms, in the process 'creating thousands of jobs.' For him, the fact that each device can also be used in both shallow and deep waters is also 'particularly interesting' - largely because it opens up the possibility of finding 'excellent wind resources coupled with challenging sea bottom conditions where traditional bottom-fixed foundations become too expensive to build and install.'
"Wind turbines are getting bigger and bigger and Ideol's solution is the only one remaining compact despite such turbine scale-up. This feature will become particularly important when commercial-scale floating wind will becomes mainstream between 2023 and 2025 and project developers will expect to be supplied with 50 units in less than 2 years," he says.
Geschier also argues that competing technologies will 'rapidly reach sizes that will make mass production and sea launching both costly and technologically and logistically challenging, not to say impossible.'
"Do you know many harbours or shipyards in Ireland or even in the UK in a position to build and launch 50 sea monsters with a size of 90 metres by 90 metres by 30 metres within 18 months? Our technology enables that as its compactness will allow for construction and launching close to the installation sites, creating jobs where the project happens," he says.
"We will first work on a multi-unit demonstration project, which will very quickly be followed by a first commercial-scale array," he adds.
By Andrew Williams