Plans for a Garden Bridge over the River Thames have been scrapped and all existing contracts terminated.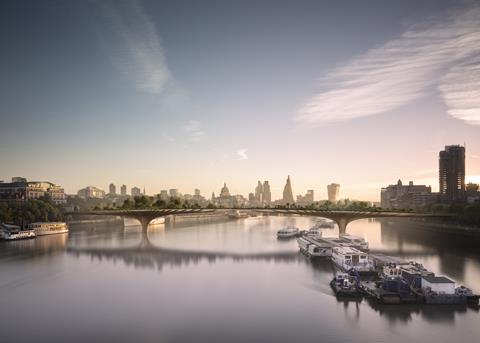 The Garden Bridge Trust, the charity established to build and run the proposed GB£200m 366m-long bridge, said it had no choice but to abandon the project because of lack of support from London Mayor Sadiq Khan.
Lord Mervyn Davies, chairman of the Garden Bridge Trust, said: "It is with great regret that Trustees have concluded that without Mayoral support the project cannot be delivered.
"We had made great progress obtaining planning permission, satisfying most of our planning conditions and we had raised £70m of private money towards the project."
The bridge, originally commissioned by former London Mayor Boris Johnson, was due to be constructed by Bouygues TP and Cimolai as a joint venture.
The Mayor withdrew support for the project in April but the trust had already spent £37.4m of public money on pre-construction work, according to a report commissioned by the Mayor and written by Labour MP Margaret Hodge earlier this year.
According to the Financial Times, a deal for the government to underwrite cancellation costs of up to £9m brings the total cost of the failed project to £46.4m.
The Trust said the Mayor wrote to Lord Davies stating that he was not prepared to sign the guarantee for the annual maintenance costs of the Bridge, a condition of planning consent.
Transport for London (TfL) and the Department for Transport both allocated public funds to the project.
By Rebecca Jeffrey