British renewable energy underwriter, GCube Underwriting Limited, has used its claims data and experience to launch a report into wind turbine fires.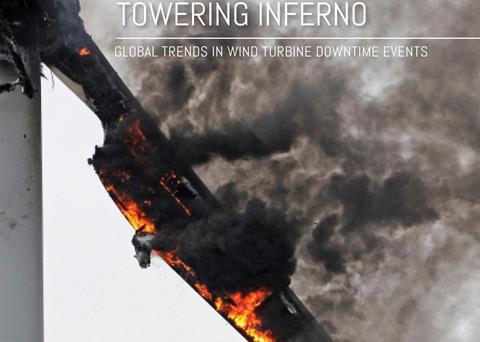 The report, Towering Inferno, analyses the root causes, impact and mitigation of wind turbine downtime events. It calls for the industry to work together to prevent the fires which cost over US$225m per year.
Jatin Sharma, head of business development at GCube and author of Towering Inferno, said: "While the vast majority of renewable energy losses escape the attention of the international media, it seems that, every few weeks, a turbine fire makes the headlines"
He continued: "For the owners, operators and insurers of wind farms, the thought of seeing a multi-million dollar asset go up in flames is already a sobering one. For the incident to subsequently be broadcast around the world is the stuff of nightmares."
Towering Inferno was released in November at the EWEA conference in Paris, it is seeking the collaboration of the industry to quantify both the financial and wider market impact of a turbine fire.
GCube estimates that a single wind turbine fire will cost a project owners a total of US$4.5m on average.
Along with the financial impact, there is also potential for fires to spread and cause a larger environmental incident and create long-term reputational damage to wind turbine projects.
Only one in every 6,000 wind turbines has a fire each year but the media attraction has led to a disproportionate amount of negative national and international news coverage.
These factors are what led GCube to believe that the industry needs to adopt a more rigorous approach and promote industry collaboration.
The report's analysis is combined with a breakdown of the internal and external root causes of turbine fires. It poses suggestions for best-practice deployment for both passive and active mitigation measures and holds extensive interviews with claims specialist Renewable Energy Loss Adjusters (RELA).
Mr Sharma concluded: "Faced with this increased scrutiny, and the long-term financial impact of a total turbine loss, we need to address the causes and consequences of turbine fires and, as a community, recognise that it affects each company in the industry."
"We cannot allow a handful of torched assets to become a symbol of our inability to work together."
A copy of Towering Inferno can be requested by emailing GCube.
By Alice Mason