The major container terminal in the Polish port of Gdansk, DCT Gdansk, received its first vessel in June 2007. Since then it has continued expansion and by 2010 the terminal was receiving 8.000 TEU container vessels on a weekly basis, mainly from the Far East.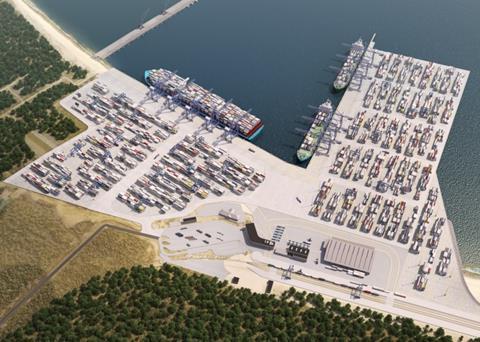 A new era for DCT opened in May 2011, when the facility started handling the Maersk Line's E-type class container vessels with a capacity of 15.500 TEU, which were the world's largest container ships at that time. By 2012, the container terminal handled its second millionth TEU since the operations started, and by the end of that year yet another annual volume record of approximately 900.000 TEU was established. In August 2013 DCT Gdansk received its first Triple E class vessel, Maersk McKinney Muller on its maiden voyage from the Far East and that year the container terminal handled more than 1,150,000 TEU.
This record of continued expansion created the demand for expanded facilities at the port and the contract has recently been signed for construction to begin on a new 650 metre long berth. The construction work will be carried out by the Belgium Group Besix, through its subsidiary NV Besix. DCT Gdansk has finalized the financing process for this expansion work to start through a group of commercial and development banks financing the investment with up to €290 million for the project.
This will be the second facility at DCT Gdansk, and it will be fully operational by 2016 and allow the terminal to meet the growing demand for deep-sea services in Central-Eastern Europe. Much of the container movements at Gdansk are focussed on the Polish hinterland and on into Russia and Eastern Europe. The new 650m long berth will increase DCT's annual handling capacity to 3 million TEU annually in the first stage of construction and the new berth has been designed to handle Ultra Large Container Vessels with a capacity exceeding 18000 TEU. It will be equipped with 5 STS cranes which will be supplied by Liebherr Container Cranes Ltd plus 16 RTG cranes and the required additional yard equipment.
"We are approaching the completion of the project's initial phase which directly precedes the construction works", said DCT Gdansk CEO Maciek Kwiatkowski. "The decision to develop the existing DCT Gdansk container terminal is a result of growing need for more efficient and economic transport solutions in the Baltic region, making it able to effectively compete with the Northern European container ports' services. We are proud to be the market leader in bringing about innovation in the CEE region's trade patterns."
By Dag Pike