Two companies have partnered to develop special planetary plug-in gearboxes for rope winches to be installed on the world''s largest and most powerful cutter suction dredger, the first to be powered by LNG.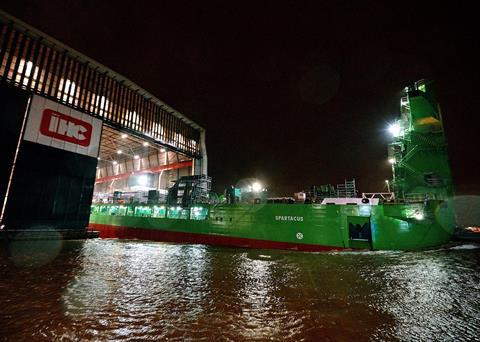 Cooperating closely with Royal IHC, Liebherr's gearboxes will be used on the 164m long and 44,180kW-strong Spartacus as well as other cutter suction dredgers.
"For the Spartacus project, we chose Liebherr planetary gearboxes, because of the good experiences we already had with them," explained JaapJan de Koster, lead engineer at IHC.
Axial play
For the Spartacus, Liebherr and IHC developed an anchor winch with two high-torque plug-in gears (up to 1,500,000 Nm) and equipped these with axial play, in order to guard against any possible tensions in the steel structure.
The multiple tooth mesh of the planetary gear stages provides the gears' very high-power density. The drum bearings in the transmission are designed specifically for use in winches to comply with high service life and maintenance-friendly operation requirements. Liebherr conducted a detailed heat calculation and supported IHC in choosing a suitable cooling option.
Mr de Koster added: "For a number of these winch drives, secondary controlled hydraulic motors were applied, which place high demands on the rest of the drive, such as an increased mass inertia. For this requirement Liebherr has applied their extensive knowledge of drive technology and provided us with a very solid and integrated solution."
The Spartacus incorporates 12 different gears with torque ranging from 165,000 to 1,500,000 Nm in use.
By Rebecca Jeffrey