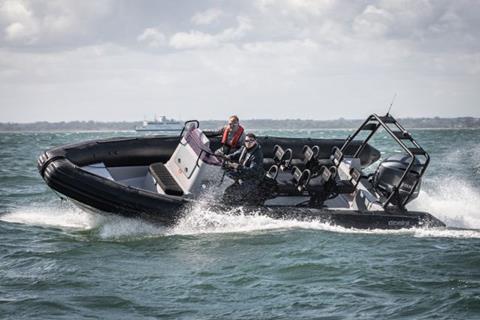 The WR 780 is used extensively in almost every possible boating application worldwide due to its proven ability in rough conditions as well a larger versatile deck space and long range capability.
Adheres to the rigorous requirements of government, rescue and commercial agencies around the world who expect the best in performance, safety and reliability.
Choice of engines, consoles, seating and on-board equipment and is also available with cabin or T-top to protect crew and passengers from the elements.
The Speed@Seawork demo vessel will have a Cox Powertrain 300hp Diesel outboard installed; the world's first 300hp diesel outboard. Berthon are distributors for Gemini Marine and Cox Powertrain for the UK & Ireland.
Hull Quality - Constructed from advanced composite materials; providing an
exceptionally strong structure, and a damage and corrosion resistant craft.
Superior Seakeeping – Gemini's stepped volume hull offers outstanding
seakeeping, improved stability, and increased payload carrying capability, as
well as being forgiving to operate.
Military/Commercial Grade Sponson – Heavy Duty Hypalon 1670 DTEX
Sponsons with the Option for Double Skinning and extra armouring for
additional strength and protection.
Interoperability – Available with single or multipoint lifts designed for safe
launch and recovery.
Proven – A hull design for superior seakeeping, payload carrying and
reduced hull slamming supported by advanced shock mitigation seating
ensures personnel remain fully capable throughout mission.
Reliable - Twin outboard engine options delivers improved
reliability, superior shallow water capability (o/b) and exceptional
manoeuvrability and control at low and high speed.
Mission Specific - Flexible platform design which can be adapted differing
configuration, bespoke fit out and equipment fit.
Self-Righting – Designed to incorporate self-righting system
Compliance – Built to international recognised standard, and can be easily
equipped and coded to meet local authority regulatory compliance.
Transportability – The WR1060 is transportable by road on a flat bed truck,
or bespoke road trailer. The WR1060 is also one of the few RIBs that can fit in
an ISO container for secure and cost effective international shipping, and can
be made compatible for air transport.
Dimensions
Length overall 7.80m
Internal length 4.80m
Beam overall 2.95m
Internal beam 1.77m
Weight (hull, deck & tubes) 950kg
Recommended max pax 14
Max load 2063kg
Certification
Gemini RIBs can be supplied with various certificates, such
as ISO 6185, CE, MCA code, SAMSA, depending
on the application
Performance Data
Approximate performance data with differing engine horse powers and configurations are available on request.
Engine Options – Single or Twin Install
Petrol outboards: Mercury, Mariner, Suzuki, Evinrude, Yamaha.
Diesel outboards: Cox Powertrain CXO300
Additional power available subject to manoeuvring & speed testing
ISO recommended hp** 300
ISO max hp** 400
ISO max engine weight** 522kg
Max fuel capacity** 520L
Transom height single 30"
Transom height double 25"
Deck Configuration
There are a number of differing configurations available, and general arrangement drawings are available on request.
In addition custom configurations are available according to weight and balance.
Sponson, Hull & Deck
Sponson diameter 550mm
Sponson volume 3.436m³
Inflation pressure 0.25 BAR
Sponson compartments 7
Hull deadrise 22°
Max displacement 4175kg
Standard Equipment
Hypalon sponsons (military grade 1670 dtex)
2 x heavy duty shark fin rubbing strakes
7 x over pressure release valves
2 x stainless steel bow eyes 2 x paddles
Full length grab line 7 x inflation valves
Internally taped seams 1 x repair kit
Anchor rope bow protection Anchor locker
Aluminium keel protection 3 x transom knees
Under deck cable track Engine motor well
2 x below deck fuel lockers 2 x towing points
Self-draining deck N on-slip deck
1 x double action pump
Spares
Consumable and contingency spares packages are
available on request
Optional Equipment
Deck Equipment
Choice of consoles configurations
Choice of jockey or shock mitigation suspension seats
Strengthened deck for high load areas and mounts
Extra fuel tanks Foam filled hull
M8 deck utility bolt system Towing bollard
Deck track system T-top
Lifting eyes & lifting strops
A Frame Options
Choice of a-frame configuration & material
Engine protection bar on A-frame
Self-righting system on A-frame
Sponsons
Additional rubbing strakes on sponsons (1 or 2 extra)
Additional rubbing strips on the front for bow
protection
Colour strip between strakes
Anti-slip surfaces on sponsons
Slide-on sponsons
Navigation & Communication System Options
Command and control systems
VHF radio (fixed & handheld) AIS
GPS chartplotter Radar
Magnetic compass Depth sounder
Night vision equipment Intercom
Entertainment system Radar
Bespoke system integration and system fit available
Specialist Equipment Fit
Specialist and client supplied equipment fit and integration is available on request at Berthon Boat Company.
Training
The following training courses are available:
Operator training Specialist equipment training
Mechanic training Specialist role training