A new era in hybrid and all-electric ship operation is getting underway in the German Baltic seaport of Kiel mid-year with the arrival of the first of a planned series of innovative commuter ferry newbuilds, writes Tom Todd.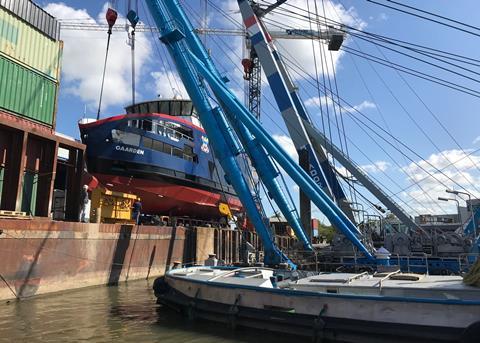 Updating progress towards what Kiel's city-owned tug and ferry operator SFK describes as "a new ferry ship generation", spokeswoman Andrea Kobarg told Maritime Journal the 32m long and 8m wide, plug-in hybrid ferry Gaarden was "expected in Kiel at the end of June". It was lift-launched at the start of May at Holland Shipyards and had originally been expected a little earlier.
A second ferry, SFK's first all-electric workhorse the 24.7m x 6.5m Düsternbrook, has in the meanwtime also been built at Holland Shipyards. Its keel-laying was at the start of April and Andrea Kobarg says it is now expected at the end of December.
Gaarden is monohull with a bulbous bow carrying 250 passengers. SFK has said it will have two fixed propellers driven by electric motors. Power will come either from two generators or from a battery pack charged overnight using a conventional plug. When required, generators will be turned off and the ferry driven entirely by battery.
Düsternbrook is for 140 passengers and 60 cycles and will be emission-free. MJ understands it will have an 819kW battery package from EST-Floattech and be driven by electric motors operating on two shafts and two rudders as well as a bow thruster. Batteries charged overnight will provide ten hour operation and solar panels on the ship's roof will supply onboard power.
The ferry will also have hydraulic positive drive enabling power-free berthing with one-man control.
When Gaarden was ordered, SFK secured options under the same contract for three more hybrid ferries for delivery in 2022, 2024 and 2026. Some 40% of the nearly €4 million cost of each of those ships is coming out of the Berlin Government's "Clean Air" promotion programme. In the meantime SFK is investing €3 million in the all-electric Düsternbrook - some €763,000 of it with "Clean Air" funding.
Asked about the timetable for further newbuilds and their technical status, Andrea Kobarg said it would be "November at the earliest" before the SFK would "evaluate and make a decision about further newbuilding options".