The 38.9m former excursion ship ''Adler Princess'', rendered largely useless by extensive smoke damage in a fire in Hamburg last year, has now been completely renovated and given a new lease of life.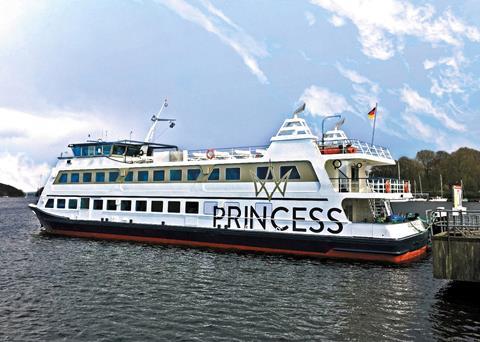 The 8.7m wide ship, built by Swedish yard Marinteknik Verkstads in Öregrund in 1993, was first owned by Dutch interests and was sold to Adler Schiffe in Germany's Westerland in 1995 and renamed Adler Princess. After initial duty-free route service between Usedom and Poland the ship was used for excursions along the Kiel Canal from 2007. It has now been renamed Princess and converted into an up-market event and restaurant excursion ship.
Adler Schiffe said it will continue to see service, like its predecessor, on the Kiel Canal and on the Eider and the Elbe rivers. Now however its range has been extended to include the Weser tributary Hunte. It will also be a regular visitor to some of north Germany's best-known international maritime events, like the Kieler Woche sailing regatta and Hanse Sail in Rostock.
Adler Schiffe spokeswoman Juliane Nissen-Hünding told Maritime Journal the Hamburg accident last December had been caused by electrical cables catching fire in the bar area on the ship's main deck and that the blaze had been quickly dealt with. "However smoke damage affected the whole ship such that we had to gut almost the complete interior areas", she explained.
The work was carried out at the nearby Jöhnk Werft in Harburg. That was because the ship was in Hamburg at the time and because it had to be back in service mid April, said Nissen-Hünding. "We were very satisfied with the conversion work", she added.
Jöhnk created an all-but-new Princess which is a modern, so-called barrier-free event and excursion ship. Special attention was paid to the optimisation of interiors to provide not only barrier-free but also flexible space utilisation over two decks.There is also a spacious sundeck with panoramic views, two bars and a lift. A special feature is the ship's buffet lift which raises a complete buffet lay-out complete with chef from the galley directly to the restaurant deck.
Spokeswoman Nissen-Hünding said the current dimensions of the Princess were 38.99m long overall and 8.7m wide, drawing 1.6m and carrying 360 passengers. Nothing has changed in the engine room and Princess retains its two six-cylinder Scania Diesels each of 218kW, providing nine knots.
Elsewhere, two similarly sized north German passenger ships, Reederei Norden-Frisia's 32m long Frisia X and the 42.2m Langeoog 1V, have spent time at another local German boat repair yard, Diedrich Werft, near Emden to the west of Hamburg.
The duo underwent annual repair and maintenance including conservation work and inspections of propeller, shaft, rudders and bow thruster plant.
By Tom Todd