The first of three big ocean-going police patrol ships is now under build after years of lobbying by the German Federal Police (Bundespolizei) and their supporters to get Government approval and funding to replace obsolete vessels.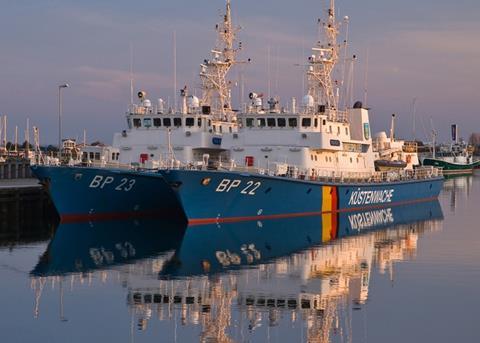 The first of the 86m long and 13m wide corvette-style newbuildings is taking shape at Fassmer Werft. A police spokeswoman in Potsdam told Maritime Journal that "delivery of the new ships will begin in December 2018" - an indication that not all will be handed over or enter service before 2019.
It's an important consideration because the police and their supporters have long warned that existing boats are already obsolete. Some time ago reports quoted officials as saying it was not even economically viable to undertake the extensive repairs needed to keep them in service beyond 2016.
Construction now of their clearly badly needed replacements follows the approval of €165 million in Bundestag funding in 2015 and an invitation to tender resulting in the Fassmer order.
Few technical specifics of the new vessels are as yet available. The Bundespolizei spokeswoman said in mid January it was not possible to report details at this time.
However Fassmer Werft has revealed some information on what it said would be "ultra-modern, efficient and eco-friendly" ships. It confirmed they will have helicopter landing decks as stipulated in the original tender invitation. It also said they will be capable of handling Super Puma helicopters – the biggest in police service. Finally, Fassmer revealed the ships would be "equipped with a particularly eco-friendly propulsion system" but gave no further details of that.
The original official tender invitation stipulated sea-going, steel mono-hulled vessels with twin propellers of about 80m in length and a beam of at least 12.6m. A top speed of at least 21 knots was also stipulated and a range of 4,000 sea miles at 16 knots.
The new ships will be owned by the German Government's Interior Ministry but will be operated by the Bundespolizei-See – the maritime arm of the German Federal Police responsible for monitoring the country's 700 kms long North Sea and Baltic coastline.
The Bundespolizei-See operates out of three centres - Neustadt north of Hamburg on the western Baltic, Warnemünde on the eastern Baltic and Cuxhaven on the North Sea. Reports said two of the three new boats will be stationed in Neustadt and the third in Warnemünde.
At 86m they will be much bigger than the boats they are replacing.
The 48.9m long Neustrelitz and Bad Düben (BP 22 and BP 23) were built in the former GDR in 1988. The 65.4m Bredstedt was completed in 1989 in what was then West Germany.
All three old ships will be mustered out when the newbuilds come in.
By Tom Todd