Germany's sea rescue service DGzRS has ordered three new 10.1m boats for delivery from 2017 as part of a modernisation programme to replace old units - some of which have been in North Sea and Baltic service for more than two decades.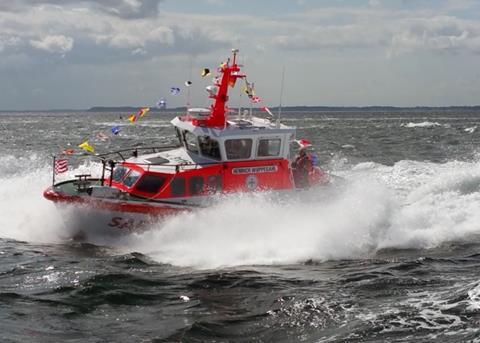 To mark its 150th anniversary in 2015, the DGzRS introduced the 27.9m Ernst Meier-Hedde, first in a new Berlin class of cruisers which are longer, heavier and faster than previous boats. More will follow soon. It also took into service the 9.5-10.1m Class Henrich Wuppesahl and it is three modified versions of that boat that have now been ordered.
Currently the DGzRS has 20 boats of the punchy 10m class in service - built at several German shipyards. They make up a third of the cruisers and boats comprising the current German sea rescue fleet of 60, ranging in size from 6.8m in length to 46m.
Between 1992 and 1994 the DGzRS put a total of 15 boats into service which are all over 20 years old. Spokesman Christian Stipeldey said: "We now need to replace them in good time". There was no indication what the new trio - SRB 66, SRB 67 and SRB 6 – would cost, but whatever it is, they will be funded from donations and Stipeldey confirmed finance still had to be raised.
The three new boats will be built by specialist small ship and boat builder Fassmer Werft in Berne/Motzen on the Weser and will replace three of the fourteen 8.5m Class boats currently in service with the DGzRS. Made of aluminium, they are of grid frame double-hull construction and self-righting and are described as very seaworthy with "perfect manoeuverability as well as particularly robust.
Drawing 0.96m, the boats will be 3.61m wide and displace 8 tons. Christian Stipeldey told Maritime Journal that, like Henrich Wuppesahl, they will have Cummins QSB 6.7 engines. He revealed however that performance was being increased to 380 hp on the new boats from the 320 hp available on the earlier 10.1m Class boats. The engines on the earlier 10m boats are of Type Cummins 6 BTA 5.9 M developing 18 knots and with an operating range of about 240 sea miles.
Among other things, the new boat trio will also boast state-of the-art navigation, communication and locational equipment including GPS sea chart plotter with AIS, radar overlay, magnetic and electronic compass equipment and an array of radio communications equipment.
Among the other equipment on board will be searchlights, fire extinguishers and a starboard rescue hatch, on-board and portable medical equipment, a pneumatic line-throwing device (PLT), a 1.5 ton SWL towing system, all round fender protection for alongside operation and powerful pumps with a capacity of 30 m3/h.
By Tom Todd