The naming and taking into service of Germany's latest sea rescue cruiser was postponed indefinitely in April but construction of other potent newbuilds remains on track, writes Tom Todd.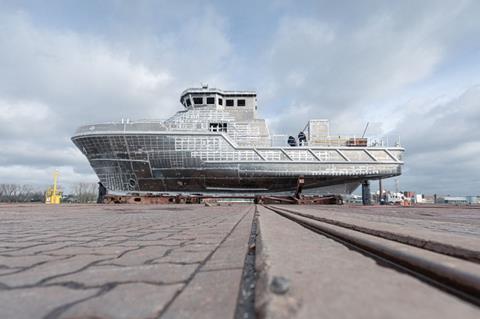 SK40 – the fourth in a series of completely redesigned 28m Class cruisers for the sea rescue service DGzRS – was to have been named Hamburg on April19th in the port city's Museumhafen next to the prestigious Elbphilharmonie concert hall. Its on-board tender was being named at the same time after a Hamburg city district.
The event was called off because of the coronavirus situation, along with a benefit concert for the DGzRS in the concert hall. "At the moment we do not know when the naming will now take place", DGzRS spokesman Ralf Baur told Maritime Journal.
There was however speculation the newbuild might enter service meantime without ceremony and be presented officially to the public later.
The new 28m Class is the powerful successor of the DGzR's 27.5m boats of the 1980s. SK40 has an operational range of 600-800 seamiles and a top speed of 24 knots from a high-performance propulsion system comprising two MTU 16V M72 engines.
Also on board are two ZF 5000D456 gearing plants with trolling and a 75kW bow thruster. Other on-board power units listed include a Deutz 1013 diesel and a Whisperpower SQ27 diesel generator. Hamburg's on board 8.2m tender has a Steyr SE 236 E40 engine developing 19 knots.
As of the start of April the 28.9m x 6.2m SK40 was undergoing trials after completion at Fassmer Werft. Ralf Baur noted small technical modifications over previous boats which, he revealed, would also be incorporated into later 28m Class newbuilds.
Baur said SK40's ECDIS system was now entirely Furono instead of Transas, its fire extinguishing system was equipped with Novec rather than FM 200 fire suppression and the boat's daytime luminous coating was foil-applied instead of painted-on. He also reported that SK40 was fitted with a Raytheon-Anschutz Pilotstar NX auto-pilot with Standard 30 Gyro instead of a Pilotstar D with Standard 22 Gyro.
The fifth and sixth 28m Class newbuilds are currently under build at Fassmer. SK41 is for delivery late year or early next year. The keel for SK42 was laid in March and it is for service from 2021.