One of Germany's busiest research ships –the 56.5m Elisabeth Mann Borgese - was returning to duty in January after "comprehensive" technical maintenance, writes Tom Todd.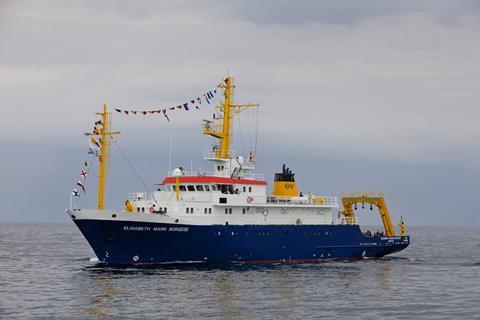 The 10.8m wide, multi-purpose ship was leaving the Peene Werft in Wolgast in eastern Germany after the stay, which began in late November.
Elisabeth Mann Borgese is owned by the coastal state of Mecklenburg-Vorpommern (MV). MV spokeswoman Kathrin Siegert listed for Maritime Journal the extensive scope of work undertaken on the now more than 30 year old ship. Although it included a mid-term two and a half year class check, many non-routine jobs were also tackled, she reported.
Non-routine work included complete external hull paint removal and recoating along with the modernisation of radar equipment and work on the transverse thruster's electrical control system. Other non-routine work covered modernisation of the ship's central hydraulics and the power distribution system's circuit breaker along with improvements in the ship's scientific laboratories and routine tank coating work. No specifics were given.
Unlike many other purpose-built German research ships, Elisabeth Mann Borgese started its life unconventionally. Built at the Kroeger Werft in 1987, it served initially with the Bundesmarine as the naval research auxiliary Schwedeneck. It was purchased by MV and converted from naval use and renamed in 2011 at the Peene Werft, these days part of the Lürssen Group.
Now the main workhorse of the Leibniz Institute for Baltic Sea research (IOW) in Warnemünde, it is managed by Briese Research and reportedly spends up to 305 days a year at sea. MV Science Minister Bettina Martin described it as "an indispensible tool" for the IOW scientific community.
The single prop ship has diesel electric propulsion comprising three SCANIA DI16-55M generators each of 532kW and transverse 147kW thrusters at bow and stern. When the ship was converted in 2011 the SCANIA units replaced three original 520kW MTU diesel generators, Type 6V 396 TB 53. Current service speed is 11 knots and the ship has a cruising range of 4000nm and carries a crew of eleven and up to twelve scientists.
Several prominent older German research ships are currently being replaced. However Siegert told Maritime Journal there were no plans to take Elisabeth Mann Borgese out of service or replace her with a newbuilding.