Envirotek, a Singapore-based investment company focused on clean technology, has successfully deployed a 62 kW Schottel Instream Turbine (SIT) in the waters off the Sentosa Boardwalk in Singapore.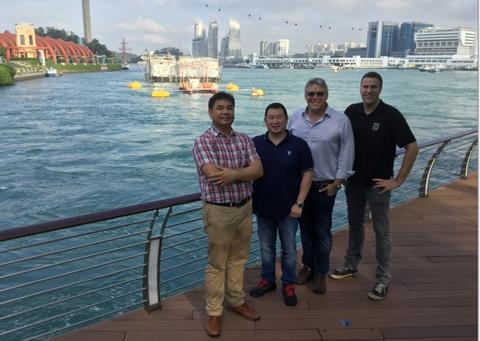 This demonstration project showcases the viability of tidal energy in the region. "This project is about developing appropriate technologies to address the very real energy needs of Southeast Asia. We are committed to delivering these tidal energy projects within the region, which can make a real difference to the lives of so many", said Jefferson Cheng, Chairman and Founder of Envirotek.
Envirotek has actively supported a recently concluded 'Ocean Renewable Energy in Islandic Conditions Workshop', where participants from the Southeast Asian Collaboration for Ocean Renewable Energy (SEACORE) network and other global island regions were present. Jefferson Cheng, Chairman and Founder of Envirotek said: "There is abundant resource within the Southeast Asian region that can provide significant amounts of energy that has not yet been tapped effectively. We are now building strong relationships with technology and service providers to develop effective solutions that are appropriate for deployment in this region."
INSTREAM OPPORTUNITIES
With more than 7,000 islands, many of which are isolated communities that still have limited access to electricity, a significant opportunity exists in the Philippines to harness the power of the oceans to provide a reliable supply of energy.
Most of these communities use diesel generators to provide electricity. Due to high costs of fuel, transportation and handling, the supply is regularly limited to only 4-6 hours a day. Tidal currents regularly flow past many of these islands, providing a readily accessible energy resource.
Envirotek is working with its global partners to develop commercially viable tidal projects, which will benefit the local supply chain and attract inward investments.
Envirotek Pte. Ltd. is a clean technology investment company based in Singapore that is focused on marine and ocean renewable energy. It has been involved in technology development for both wave energy (via Global Renewable Solutions Pty Ltd in Australia) and tidal energy, investing in projects such as the Black Rock Tidal Power in Canada and its own demonstration project in Sentosa Island, Singapore.
OceanPixel Pte. Ltd., a Singapore-based innovation company, is presently providing Ocean Renewable Energy suitability analytics and project management to Envirotek.
OceanPixel Pte Ltd provides intelligence for the Ocean, Offshore, and Marine Renewable Energy sectors. OP is headquartered in Singapore with active presence and involvements in the Philippines, Indonesia, and in various parts of Asia. As a pioneering company partnering with experts within the marine renewable sector, it has the ability to deliver a broad cross-section of skills to tidal project development companies, including feasibility studies, data catalogues, project development, management and strategic financing initiatives.
OceanPixel Managing Director Dr. Michael Lochinvar S. Abundo commented that, "To date, tidal energy has not been considered a viable source of energy in Southeast Asia. The technology that we are working on with our partners will make deployment in the region a commercial reality. Furthermore, there is tremendous potential for harnessing tidal instream energy in an archipelagic country like the Philippines. We are looking at marine renewable energy to form part of the energy mix – starting in off-grid areas but eventually feeding into micro-grids and ultimately the main grid."
INTEGRATED FLOATING TIDAL ENERGY SOLUTIONS Sustainable Marine Energy (SME), which will be best known to readers of Maritime Journal for its UK stationed PLAT-O device, and Schottel Hydro have been working on an integrated surface floating platform solution (PLAT-I) for less aggressive sites enabling the exploitation of a greater number of locations to support island communities.
SME is an anchoring, mooring and platform solutions provider for energetic marine environments. Their primary focus is delivery of commercially viable products to the tidal energy industry. SME's innovative technologies and processes promise to deliver a reduction in cost and enhance through-life performance for customers.
SME's new PLAT-I platform is claimed to provide this step-change reduction in the cost of delivering tidal energy—one of the Earth's most abundant and reliable renewable energy sources. PLAT-I floats on the surface of the water and hosts 4 x SIT 250 turbines.
Jason Hayman, Managing Director of SME states that, "The need to supply reliable, cost effective power to remote communities is of critical importance. Working with Envirotek, OceanPixel and Schottel Hydro, we believe that we have a solution that delivers results. We recognise that Southeast Asia presents a great opportunity and are keen to support Envirotek to deliver and be part of their journey."
Developed in Scotland by SME with governmental support, PLAT-I is a 268kW - four SIT 250 – platform, which will be tested in Scottish waters before being relocated to a demonstration site in Singapore. The delivery of such a platform to Singapore, funded by Envirotek, will see a significant step up in the scale and size of platforms available in Southeast Asia, and in the delivery of a commercial demonstrator. SME and Schottel Hydro are clear that scaling up into arrays is a measured and sensible approach. Furthermore, Jason Hayman commented, "Not all locations will need large utility scale 1MW generating stations and, in many cases, such units will not be appropriate. The Southeast Asian market is a great environment to prove that tidal energy can be delivered incrementally, and eventually, scale to multi MW arrays using smaller units that can be supported using local infrastructure."
Schottel Hydro offers its services in three segments: hydrokinetic turbines, semi-submerged platforms, and components, such as turbine hubs and drives. It also includes the British company TidalStream Ltd. and the Canadian company Black Rock Tidal Power.
By Jake Frith