Germany's leading repair and conversion yards have demonstrated their versatility again with a flurry of big ship repair and refurbishment projects at a time when the future of the sector is far from certain.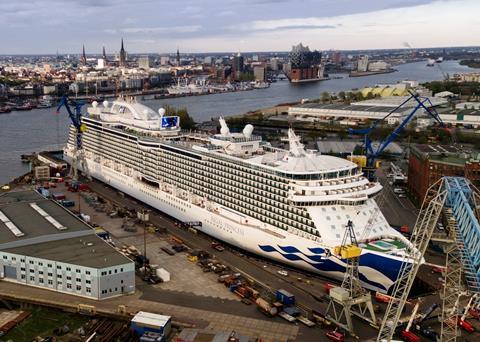 Boat, small ship and specialist tonnage repair and maintenance remains the backbone of many small and medium sized German yards. However, at the other end of the scale yards like Blohm + Voss (B+V) in Hamburg continue to tackle the giants.
B+V, struggling with job cutbacks following its take-over last year by leading yacht and naval vessel group Lürssen, docked the 142,714gt cruise liner Regal Princess for two weeks of repair, maintenance and modernisation in its 351m long and 59m Elbe Dock 17. Built in WW2 for battleships, the dock is one of only a couple in Germany still capable of handling the repair, maintenance or conversion of big cruise ships, tankers, bulk carriers and offshore vessels.
Other callers reflecting B+V's commercial capabilities of late have included the 128,806gt ice-breaking LNG carrier Christophe de Margerie. Only just built, it also docked in Elbe Dock 17 for unidentified guarantee work on the engine room, interiors and hull.
The 87,440dwt bulker Cape Maria also docked for propeller and shaft repairs while the 56,700dwt ConRo ship Atlantic Sail came for repairs and cell modification.
Recent work at Hamburg's nearby Norderwerft , now a Blohm + Voss sister within the Lürssen Group, included bulbous bow repair on the 72,00dwt container ship BF Fortaleza and the replacement of gearing on the 12,500dwt cargo carrier Lone.
A Lürssen spokesman told Maritime Journal the overhaul of the engine room on the 17,880dwt container ship Thetis D had been "a particular challenge". The main engine, damaged in an accident, was extracted and moved to MAN by floating crane. Another highlight was a scrubber system retrofit on the world's first hybrid LNG barge – the 76.7m long and 11.4m wide Hummel which serves as a floating power plant in Hamburg.
In Bremerhaven, German Dry Docks (GDD) tackled steel repairs on the 33,313gt RoRo ferry Ark Dania. Reports said neighbouring Lloyd Werft Bremerhaven (LWB) and GDD had also been involved in maintenance and class work on the 6,471gt expedition cruise ship National Geographic Explorer.
Other recent callers at LWB, now reestablishing itself in the repair and refurbishment of specialist tonnage following the decision of owners Genting last year not to engage in newbuilding in Bremerhaven, have included the 42,289gt cruise ship AIDAvita for classification and maintenance work along with "extensive beauty treatment", according to owners AIDA Cruises. AIDAvita stayed for 11 days for "comprehensive" work. In addition to regular safety and maintenance, extensive remodeling or upgrading was carried out and exteriors were painted, AIDA Cruises also reported.
By Tom Todd