Building is under way at the specialist Fassmer shipyard in north Germany on what officials say is the world's first ocean-going, public service vessel of its type with LNG propulsion.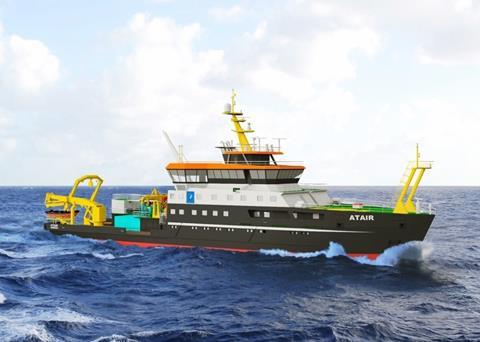 The keel for the75m loa and 16.8m wide survey, wreck location and research ship Atair was laid just before Christmas. Costing at last word €113.8 million, it will go into service with the Hamburg based Federal Maritime and Hydrographic Agency (BSH) in 2020.
It was ordered by the German Transport Ministry in 2016 for government service and will replace a current 51m namesake and be Germany's most modern ocean-going research ship.
Fassmer spokeswoman Inga Busch told Maritime Journal there had been some slight changes in the specifications for the ship since it was first planned. Reporting the latest data she said Atair would draw 5m and displace 3,380t. It will be propelled by a dual fuel Diesel-LNG- electric-drive system of total 2,900kW – not 3,100kw as reported originally - comprising two Wärtsilä 6L20DF main engines of 960kW and one 6L20 unit of 1000kW.
It is planned that the system will provide 13 knots. High-quality gas-oil will be used and Wärtsilä will provide the 130m3 LNG tank which will provide ten days of independent LNG operation. The ship will also carry an emergency diesel from Zeppelin Caterpillar, Busch reported.
When the order was originally placed it was hoped that the new LNG Atair would meet the stringent standards of Germany`s coveted environmental, quality design award "Blauer Engel". Busch was this time in no doubt that the ship would, indeed, meet those requirements - as has Germany's LNG-driven passenger ferry Helgoland in the meantime.
Built by Fassmer for Cassen Eils in 2015, the 83m Helgoland was described as Europe's first of kind to get LNG dual fuel propulsion capability. Like Atair it also has Wärtsilä propulsion - two nine-cylinder 20DF medium-speed engines of 4030kW.
The new all-steel Atair will also have a seven-blade fixed pitch propeller, a Schottel STT 1 bow thruster and a pumpjet SPJ220 as well as a Schottel STT 170 stern thruster.
Classified DNVGL +1A SPS BWM (T) Dynpos (Aut)E0 Gas fuelled Ice (1C) Naut (Nav) Silent (R), it will boast a string of special features and be equipped for hydrographical and geotechnical work with an A-Frame, specialised winches, deployment boom, two sounding boats, CTD-Unit and sounding equipment.
The new Atair will also have a DP-1 dynamic positioning system, low noise transmission acc. ICES recommendation and DNVGL Silent-R. There will be wet and dry laboratories on board as well as a diving compartment and facilities for handling hazardous materials plus treatment for exhaust gas emissions – part of the planned "Blauer Engel" eco-standard label it is seeking.
By Tom Todd