Germany's new multi-purpose, LNG-fuelled ''Atair'' is now in test operation as attention turns to further high-end ship replacements, writes Tom Todd.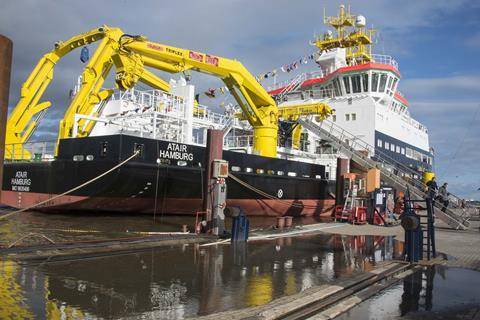 The Hamburg-based Federal Maritime and Hydrographic Agency (BSH), which will operate Atair for the Berlin Government, said the 75m, €114 million survey, wreck location and research newbuild was undergoing about three months of tests and fitting following launch at Fassmer Werft. The BSH said it will enter service in the first half of 2020.
Reports said the agency also plans to replace two more survey, wreck location and research ships in its fleet with time.They are the 52.05m Deneb and Wega.
Atair is billed as the world's first governmental research vessel with LNG propulsion. It has Wärtsilä 20DF and 6L20 engines and develops maximum 13 knots.
Replacing a 30-year-old, 51.4m BSH namesake, it is the first of three multi-purpose LNG newbuilds planned by Berlin. Attention is now focussed on the two other LNG ships, both for operation by another Government body - the Waterways and Shipping Administration (WSV).
Of up to 85m long, they will replace two emergency response ships - the 56.1m Scharhörn, built in1974, and the 80.4m Mellum, built in 1984. Invitations to tender went out in July 2018 and WSV spokeswoman Claudia Thoma told Maritime Journal in October "our aim is to place an order by the end of the year". Earlier this year Thoma explained that "extensive re-planning to cover LNG propulsion has put back the original time-table".
The comment referred to a political decision to fit the new ships with LNG rather than with Diesel-electric systems, as stipulated in the original tender invitation. The WSV has since added that the newbuilds will be "exclusively" LNG-fuelled. If ordered now, they are expected to be in service in a couple of years.
In her latest comments to Maritime Journal, Claudia Thoma also indicated that Berlin and the WSV were proceeding with an option mentioned in the original tender invitation to order a replacement for a third specialist ship - the now 21-year- old, 78.9m pollution control and emergency response ship Neuwerk. Whether that ship will also be LNG-fuelled was not immediately known, but it appeared likely given Berlin's clean shipping policies.