It has been revealed that another merger of north German shipyards could be in the offing - just a month after the last one was agreed, writes Tom Todd.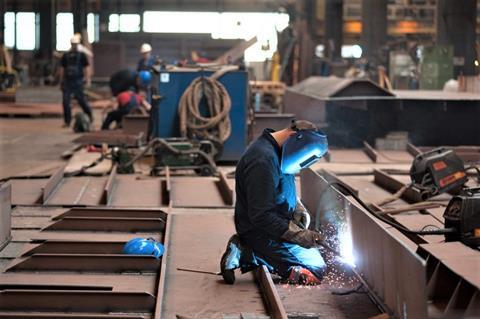 In a surprise announcement, troubled RoRo and RoPax builder Flensburger Schiffbau-Gesellschaft (FSG) said "we are in negotiations with the Pella Sietas Group regarding a possible purchase of FSG".
The yard acknowledged however that the talks with the Russian owned shipyard, on the Elbe near Hamburg, were "far from complete and cautioned: "whether they will be successful depends on many factors".
What those factors might be was not revealed. However one major evident concern appeared to be the possibility of job losses at FSG if the merger went ahead.
"We also do not yet know how many jobs can be retained if Pella Sietas takes over FSG and how many will have to be cut", the Flensburg statement said. It promised further information on the talks "as relevant progress is made".
Pella Sietas, which employs about 200, took over one of Germany's oldest family shipyards, the insolvent J.J.Sietas Werft in similar circumstances in 2014.
FSG, north on the Flensburg Fiord and Danish border, had 650 employees at last word. It has long been in financial trouble. It has been closed since mid March and involved in insolvency and self administration since the end of April under an appointed legal and management team.
Reporting "good negotiations" with Brittany Ferries at the end of May FSG announced plans to resume construction of the unfinished 42,000gt ferry Honfleur in the second half of June. It also reported talks with "potential customers". Given the more positive recent comments, the announcement now of a possible purchase appeared linked to the continuing need for investors.
The latest development comes a month after an even bigger German yard fusion – that of the military and naval surface shipbuilding activities of the Lürssen Group and German Naval Yards Kiel (GNYK).
That came out of a controversial decision by the German Defence Ministry to select Holland's Damen Group along with German and Dutch associates to build planned new frigates for the German Navy. Lürssen and GNYK had also bid for the contract and GNYK charged the move was not lawful but has since withdrawn the complaint.