Germany's high-speed passenger catamaran 'Halunder Jet' was due to arrive in Canada around mid December to start a new life after a piggyback journey across the Atlantic on the10,053dwt Harren & Partners heavy lift vessel 'Palabora'.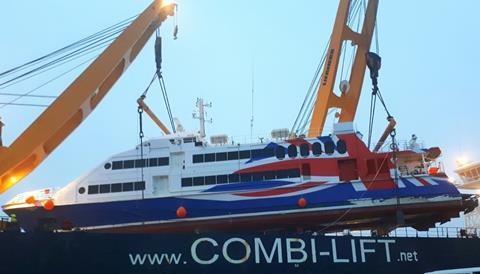 The 51m long and 12.3m wide catamaran left the German port of Emden on November 16th. Birte Dettmers, Managing Director of Flensburg-based Förde Reederei Seetouristik (FRS) told Maritime Journal the journey to Victoria on Canada's west coast in British Columbia was expected to take about 32 days.
Halunder Jet completed 14 years of service with FRS subsidiary FRS Helgoline in October. On arrival in Canada it will join another FRS company, the Seattle-based Clipper Navigation, on the route between Vancouver and Victoria. Before it left Germany, the ship was given a striking new external 'union jack' livery for its new service and also underwent unspecified retrofit alterations at Blohm + Voss shipyard in Hamburg.
Built at Norway's Fjellstrand Shipyard, Halunder Jet sailed from Hamburg to the island of Heligoland in the German Bight via Wedel and Cuxhaven every day from April to October for 14 years up to this year. It is being replaced by a bigger catamaran from Austal, now under build for delivery to FRS Helgoline next Spring.
Halunder Jet notched up a million kms on 2,994 trips and carried more than one and a quarter million people in its time with FRS Helgoline. Birte Dettmers said she was sad to see it leave: "I introduced Halunder Jet to the market in 2003 and it has grown on me", she said. "I let it go now with a heavy heart, but I know it is in good hands with our colleagues in Canada".
Drawing 2.5m, Halunder Jet was custom built for the tough five-hour round trip to Heligoland. It has four 12V MTU 4000M main engines of total 6,960kW along with three 139kW Volvo auxiliaries and is driven by four KaMeWa 63 S11 Waterjets developing 36.5 knots.
Confidence in that engine configuration is reflected in its replacement.
The new 56.4m long and 14m wide high-speed, all-aluminium Heligoland ship is also custom built for Heligoland service. Like its predecessor it will have MTU 4000 series engines: four 16V MTU 4000 M63L main units and four Kamewa S71 Waterjets from Rolls-Royce, providing up to 35 knots. FRS said it had simulated engine and Waterjet combinations from different makers before deciding on MTU.
The new ship will also be the result of passenger experience with Halunder Jet. The demand for Heligoland service is rising and the new ship will carry 692 passengers - 20% more than before. It will also offer them six times more open deck space than on the old ship, FRS said.
By Tom Todd