Germany's Wasserschutzpolizei in Schleswig-Holstein has been testing a compact new electronic chart system and looks likely to install it in its fleet of small patrol boats.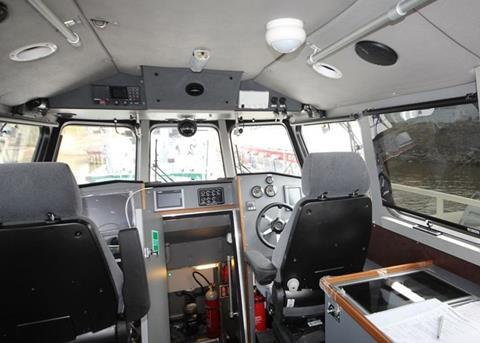 The Kiel-based Wasserschutzpolizei, part of the Schleswig-Holstein State Police, operates six of the small patrol boats - Type Watercat 1200 Patrol from Finnish builders Marine Alutech. All 12m long and 3.4m wide, they were introduced between 2011and 2014 and serve the local ports of Lübeck, Travemünde, Heiligenhafen and Brunsbüttel as well as local rivers and waterways.
Police spokesman Sven Stange, explaining the problems with ECS installation, told Maritime Journal: "there is, relatively speaking, little space on the boats and we do not want to hamper all-round vision, (so) there is unfortunately no room to install an electronic sea chart".
Such charts on German police boats have to be approved by the German Federal Maritime and Hydrographic Agency (BHS), he said. "Unfortunately the monitors in the available approved systems are always too big". That's why the Wasserschutzpolizei and the firm of Alphatron Marine had been testing a new Electronic Chart System (ECS) which uses a 15" TFT monitor and a panel PC, Stange added.
The system, ALPHACHART ECS, is designed for boats below 150gt with 15" radar and was installed and tested on Warder, one of the German Marine Alutech boats.
Stange told Maritime Journal in April "If our experience with it is positive – and I believe that it will be – then we will retro-fit the system in all our Marine Alutech boats". A decision was promised after this issue of Maritime Journal went to press. Stange said "we will certainly be able to make a statement about ECS by the end of May".
Communications and navigational equipment already on the boats includes SAT compass, Radar, GPS, AIS, Navtex and UKW-radio - all from Alphatron Marine Deutschland while Siemens supplied the electrics and Kötter the alarm system. Stange reported early problems involving aluminium electro-chemical corrosion but said they were solved by fitting slip rings to earth propeller shafts and by larger hull anodes.
Stange said the Alutech boats, which draw just 1m, "have proved their worth in daily operation". Four of them – Schwansen, Habicht, Warder and Vossbrook - are each powered by two Volvo Penta D6-370 or D6-330 main engines of 310hp providing a top speed of 30 knots. They also have Sidepower bow thrusters.
The other two boats have smaller Volvo Penta D4-260 engines. Wagrien serves in the port of Luebeck and on adjacent waterways. Adler was designed for service mainly on the busy Elbe-Luebeck Canal. Because of the many bridges in both areas, the boats have lower superstructures and are able to lower their masts and antennae hydraulically to pass under low bridges.
By Tom Todd