Good experience with the sounding and survey boat ''Visurgis'' has prompted German inland shipping authorities to build another – but bigger and with greater Schottel NAV propulsion clout than its predecessor.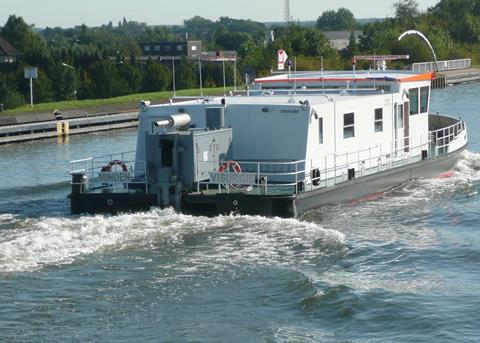 According to information provided by Gerrit Claussen at the federal German Waterways and Shipping Office (WSA) in Minden, the new boat will be a good 28m long, about 7.4m wide and be named Spreegrund. It will be driven by a Schottel NAV 170 system - a more powerful configuration than that on its predecessor Visurgis.
The new boat has been ordered by the WSA in Berlin from the Hermann Barthel shipyard in Derben on the Elbe for delivery in October.
It is for operation on the Berlin waterways Havel and Spree but will also see service on the Elbe, one of Germany's busiest inland shipping routes. It will operate as far downstream as Lauenburg, about 50 kms short of Germany's biggest universal seaport Hamburg and its job will be to sound the river for obstacles or danger spots and arrange dredging if needed.
It's because of tougher Elbe service that the new boat's propulsion will be more powerful than that on Visurgis, even though externally the newbuilding will resemble its predecessor, the WSA said.
Visurgis was also built by Barthel and was reportedly the first catamaran to be produced by the yard. It has been in service with WSA Minden since 2010 on the River Weser, the Elbe Seitenkanal and the Mittellandkanal.
Smaller at 25.6m x 7.58m, it draws about 0.85m and displaces about 74 tons. It has a Schottel NAV 110 system of 182 kW with rudder propeller and a Volvo D7C-TA 4-cylinder diesel which also supplies two TH20 23kW hydraulic bow thrusters from Holland's ABS Hydromarine. Gerrit Clausen made clear why the WSA had again chosen Schottel and Barthel for the new boat when he said: "We are 100 percent satisfied with Visurgis. She operates perfectly – almost floats on air".
The new boat's more powerful Schottel NAV 170 system is a complete and enclosed propulsion unit comprising a MAN D 2866 13 40 Diesel engine of 279kW and a Schottel rudder propeller developing 16 kms/hour. Claussen said the bow thruster would be the same as on Visurgis. Schottel said the NAV 170 can also be raised or lowered to meet draught conditions and will give the boat greater push and better manoeuverability.
Apart from also being longer than Visurgis, the new boat will also be flatter to cope with Berlin's low bridges and can be loaded with ballast if required. It will reportedly also boast a triple-head sweeper system for sounding: one head will be in the centre of the boat and the others to port and starboard.
By Tom Todd