A Ghanaian renewable energy production company has contracted Swedish wave technology developer Seabased to deliver a 100MW wave energy plant near Ada, the first utility scale wave park in Africa.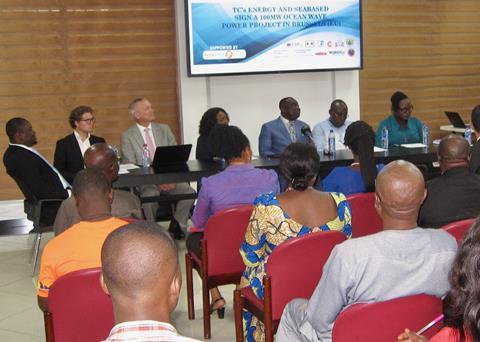 TC's Energy said that this contract is a world first in the fledgling wave energy industry in the country. The company holds a power purchase agreement for 1000 MW with Electric Company of Ghana Ltd, which will own and operate the wave plant when completed.
"The necessary studies, permits and PPA are all in place and we have the experience of a successful pilot under our belt. We feel well-prepared to step into this final phase of manufacturing and delivering the wave park," said Øivind Magnussen, CEO, Seabased.
Project progression
In January 2018, Seabased conducted a detailed round of site investigations was conducted in the wave park area, including depth and seabed conditions, to update reports from the pilot phase.
Construction of the first generators is already underway.
When completed the 100 MW plant could provide all the electricity needed for tens of thousands of Ghanaian homes.
Other contracts
Seabased isn't just focused on Africa though, it is also looking towards Asia.
It is currently partnering with Infocom Connect to provide renewable energy for commercial projects in Sri Lanka and is working on a 1-to-5 MW instalment will which power a fish farm.
The company said that several entities in Sri Lanka have approached Seabased about creating wave energy installations for the island with the country gradually working towards increasing its renewable energy capacity to become 100% powered by sustainable energy by 2050.
As we went to press we learned that Seabased is also teaming up with Infocom Connect to provide clean, renewable, wave energy for commercial projects in the Canary Islands. The partnership will begin with a project for a pilot 5MW installation to provide energy for a desalination plant, but could expand to address multiple energy needs, from automobile recharging stations to supplying the grid.
By Anne-Marie Causer