A global distribution partnership has been announced between two technology companies which means customers can more easily access a high-tech GNSS receiver module that offers reliable centimetre-level positioning.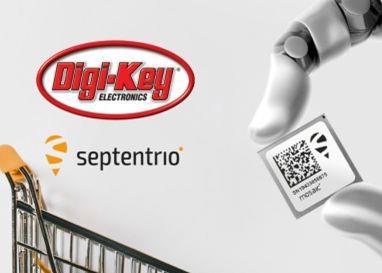 GNSS positioning solutions company Septentrio has partnered with electronic components distributor Digi-Key Electronics to enable the latter to offer Septentrio's mosaic-X5, designed to provide secure and reliable high-accuracy positioning in a compact and low-power form factor.
"Our mosaic-X5TM is an advanced GNSS receiver module without performance compromises. With its small form factor and low-power design, mosaic-X5TM brings high-performance positioning to volume applications," said Francois Freulon, head of product management for Septentrio. "Having Digi-Key as a distributor enables us to scale and reach out to find new markets and applications where secure high accuracy positioning is required."
Septentrio's mosaic-X5TM features complete multi-frequency multi-constellation technology and tracks every existing and future signal from all Global Navigation Satellite System (GNSS) constellations.
Such signal diversity coupled with advanced anti-jamming technology allows mosaic-X5TM to deliver centimetre-level positioning with maximum availability, even in challenging industrial environments. This makes mosaic-X5TM a suitable positioning solution for applications such as robotics, automation and telematics.
By Rebecca Jeffrey