The centerpiece of the Route du Littoral in the north of the French-dependency island of La Réunion in the Indian Ocean is an offshore viaduct with a length of 5,600 metres, which is being built to avoid the dangerous sections of the existing coastal road.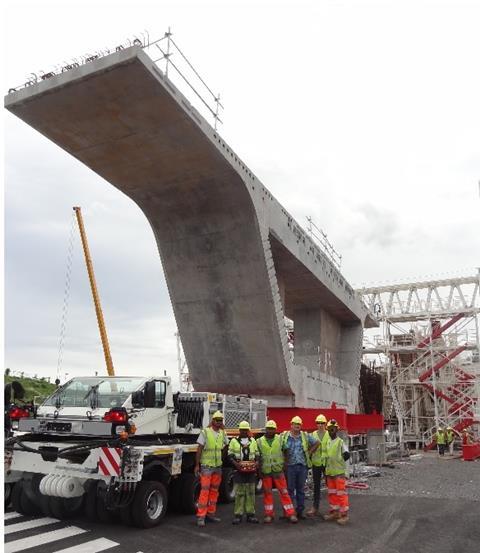 In order to anchor the piers on the seabed, a floating construction platform complete with a huge crane is being used to lift the prefabricated foundation elements and position them on the seabed. The viaduct will have a total of 36 main piers and a supporting structure comprising 1,386 precast segments.
For transporting the main piers and the viaduct segments, the building consortium led by international construction and concessions company VINCI is using three split combination PST/SL 18 (P1+1/2) heavy-duty modules from German heavy transport specialists Goldhofer. Two factors were decisive for the choice: on the one hand the height and width of the cargo, which would normally call for two parallel modules, and on the other hand vehicle width restrictions en route.
Goldhofer's split combinations enable the width of the decks of the modules to be increased by 50 percent. That makes them the prefect solution: wide enough to take the 36 main piers weighing 700 tons each and narrow enough for the limits on overall vehicle width. Another relevant detail is the fact that the chosen combinations are self-propelled heavy-duty modules with hydrostatic drive equipped with two 490hp PowerPacks. The vehicles need that kind of power in order to travel at high enough speeds. As the operation will last several months, the vehicles are fitted with fully enclosed cabs.
The main piers are transported over a distance of about one kilometre from the concrete plant to the port and there loaded onto the floating platform to be taken to the construction site. The 1,386 viaduct segments, each weighing between 210 and 285 tons are taken straight onto the viaduct. Transport operations are limited to the night hours, when there is much less traffic on the Route du Littoral. Two of the four lanes can then be closed, and the heavy-duty transporters carrying the viaduct segments can use the closed lanes to travel the 15 kilometres or so from the concrete plant onto the finished length of viaduct.
At the end of the last completed deck section, the precast segments are picked up using a launching gantry and lowered into place. According to the construction schedule, 1,386 journeys are to be made over a three-year period for the viaduct segments alone. That is a real challenge for the three PST/SL 18s, one that will yet again demonstrate the reliability and quality of Goldhofer's heavy-duty modules in daily use.
By Jake Frith