City travel could become cleaner and greener with a proposed electric ferry.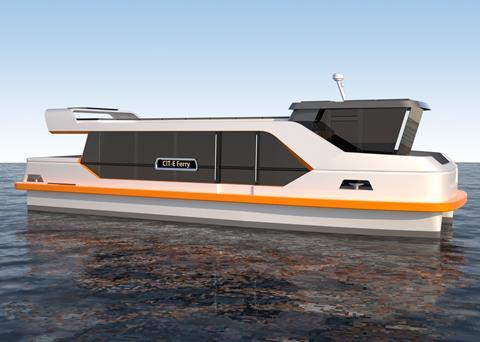 Fassmer Shipyard and Torqeedo have announced a fully electric ferry concept for public transport – the Fassmer CIT-E Ferry powered by a Torqeedo integrated drive system.
"Many cities are creating intermodal public transport networks integrating climate-friendly water taxis, ferries and other passenger vessels. We are proud to make a small contribution to avoid emissions with our integrated electric drive system," said Matthias Schubert, Torqeedo's director for commercial sales.
"Our CIT-E Ferry design with electric drive offers the urban mobility of the future without any air or noise pollution," stated Fassmer's sales manager for boats and davits, Wolfgang Moewes.
Deep Blue drive system
Torqeedo's Deep Blue drive system is the heart of Fassmer's GRP-constructed CIT-E Ferry. Twin steerable thrusters deliver continuous power of 100kW (peak power of 130 kW) and rotate up to 360 degrees, making the CIT-E Ferry easy to manoeuvre.
Deep Blue lithium-ion batteries with a battery bank capacity of between 80 kWh and 1 MWh power the integrated drive system. These high-capacity batteries meet IEC 62619 and IEC 62620 requirements, making them suitable for use in the CIT-E Ferry according to ES-TRIN (European Standard laying down Technical Requirements for Inland Navigation vessels) requirements. A DNV-GL type-approved battery variant is also available.
The efficient and low wash catamaran hull, designed by Judel/Vrolijk & Co., delivers speeds of up to 25 km/h. Depending on the overall battery capacity, 14 hours of daily operation time without recharging can be reached. This will reduce infrastructure and battery bank costs.
The modular concept allows the customer to adapt the vessel's overall length from 12-24 meters, depending on the route serviced.
By Rebecca Jeffrey