The Swedish energy company Vattenfall and its partner, the Aberdeen Renewable Energy Group (AREG), have been developing the European Offshore Wind Deployment Centre.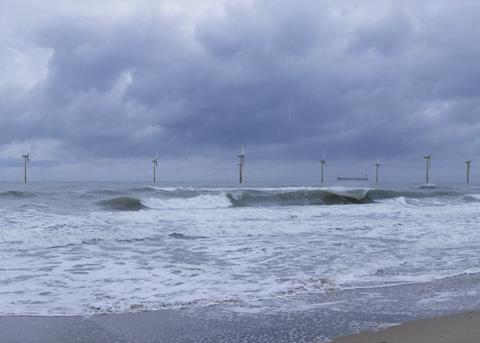 Now Vattenfall has given the green light to fully fund this innovative 11 turbine project. This wind farm is being developed to test and demonstrate cutting-edge offshore wind technology and once operational in 2018 will boost the industry's drive towards competitive clean power.
With this announcement it means that Vattenfall will own 100% of the company behind the European Offshore Wind Deployment Centre. Vattenfall has decided to invest more than £300 million to build what will be Scotland's largest offshore wind test and demonstration facility. It is anticipated that the project will feature the latest wind power technology. Vattenfall is already involved in the development of a major wind farm off the coast of East Anglia and has several onshore projects.
Vattenfall's investment decision triggers an agreement for the European energy company to acquire the Aberdeen Renewable Energy Group's 25% share for an undisclosed sum and become the 100% owner of Aberdeen Offshore Wind Farm Limited, the company behind the European Offshore Wind Deployment Centre (EOWDC), also known as the Aberdeen Offshore Wind Farm.
It was back in 2003 that AREG had the vision of a wind farm in Aberdeen Bay. In 2008, the EOWDC was conceived and in 2010 the project partners won a €40 million EU Grant towards the project. In 2011 an application for offshore consent for the 11 turbine project was submitted with Scottish Ministers granting permission in 2013. A number of legal challenges to the Scottish Government's consent decision followed, which were eventually cleared in December 2015. The project hit the headlines, including those of Maritime Journal when it was opposed by Donald Trump because of the potential visual impact on his proposed golf centre on the nearby coast.
Onshore construction near Blackdog will start later this year and is due to be completed late next year. Works offshore will commence in Aberdeen Bay in late 2017. The project is scheduled to generate first power in spring 2018 and operate for 20 years or more, producing 92.3 MW of power
"Vattenfall's green light for the EOWDC underlines our long term ambition to grow our wind power capacity, including in the UK," said Gunnar Groebler, the head of Business Area Wind at Vattenfall. "The UK Government believes that wind power should continue to provide an essential part of the UK's low carbon electricity generation mix and so we remain committed to expanding our UK operations. In particular, we are confident that the new UK and Scottish governments will continue to support growth in offshore wind as the industry lowers the cost of energy significantly."
By Dag Pike