Green Marine has expanded its offshore wind capacity by purchasing a Damen Twin Axe 26m long CTV to focus on providing safe transportation of personnel and cargo to offshore installations.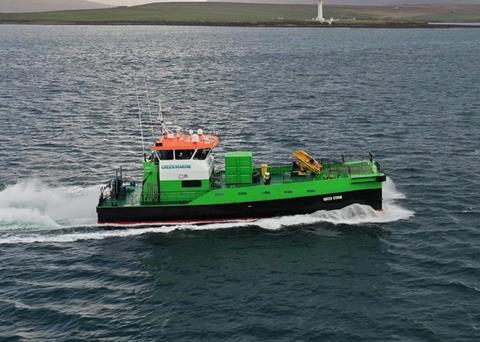 Safety management and maintenance systems are currently being implemented on the Green Storm and Green Marine's experienced masters and crew are carrying out drills and vessel familiarisation.
Jason Schofield, managing director of Orkney, Scotland-based Green Marine, commented: "The significant investment our company has made in the purchase of another vessel and new office premises is testament to the confidence we have in the future of the offshore renewable industry. We are continually rising to the high standards and demands of this industry, and that is a credit to our valuable and dedicated workforce."
The company has worked on several offshore wind farms, including Beatrice, Moray East and West Wind Farms, Hywind, East Anglia 1 and Ormonde, with their other vessels.
This week Green Marine became Orkneys first Company to pass the first stage audit for Fit 4 Offshore Renewables (F4OR), developed by the Nuclear AMRC and the Offshore Renewable Energy Catapult.
The F4OR programme is to ensure that the operations of companies meet the standards expected by project developers and operators and their supply chain partners in key areas of business and performance.
By Rebecca Jeffrey