After what Griffin Towage Ltd describes as a 'challenging year' in 2015 the UK-based company has embarked on a relaunch including a new presence on the east coast and a major refit for a much-loved tug.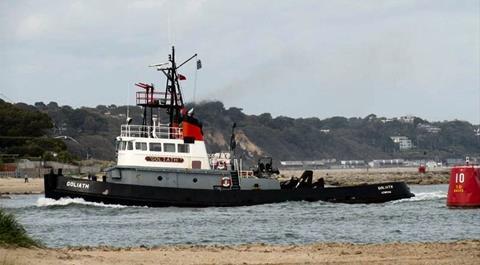 Griffin Towage is a relatively small company founded in 1999 by Jon Evelegh and noted for giving new leases of life to older tugs otherwise facing uncertain futures proving that well-maintained tugs which may be displaced by modern more efficient vessels still have something to offer the industry.
Griffin Towage's activities are not confined to the UK with operations in the Mediterranean and West Africa and as well as its home base in Poole covering the UK south and west coast now has a presence in Great Yarmouth offering a service for clients on the east coast as well as Belgium, the Netherlands, Germany and Scandinavia.
Of particular interest is the vote of confidence in its most powerful tug the 1956 built Goliath. Built for service on Manchester Ship Canal, Goliath has benefitted from continued investment and TLC from previous owners and is now set to continue in employment following this latest refit.
Goliath is of the 'hydroconic' design and Richard Balfry from the tug charter section at Griffin Towage described the tug to MJ: 'We love the grand old ladies here. They are inexpensive to buy (eliminating the need for expensive financing), have fine slippery hull shapes for fuel economy at sea and are much easier to maintain (as everything is not controlled by printed circuit boards). Spares are not a problem as most of what we need is still available, or if not, we have it made.' Goliath is twin-screwed, powered by Ruston 6VGBXM main engines providing speed of 11kn and 24tbp. It is well-equipped with a twin-drum towing winch, 14t deck crane and fire-fighting capability and classed as an MCA Class IX Tug.
By Peter Barker