Griffon Hoverwork is building a 995ED hovercraft for a private client to use in icy conditions, as well as a tailor-made variant commissioned as a tender for a superyacht.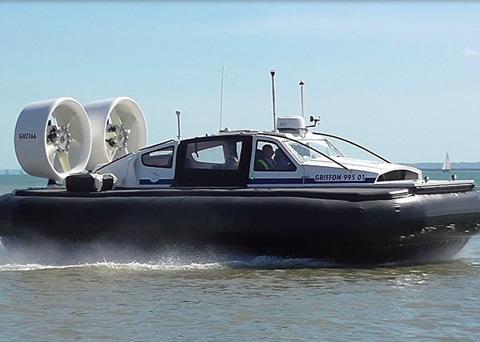 The first 995ED hovercraft was completed last year and delivered to the Malaysian government's marine department, which is using it for the maintenance of navigation marks and light houses.
Nick MacLeod-Ash, sales and marketing director at Griffon Hoverwork, said: "Griffon is delighted to land these new orders for the 995ED which was specially designed for search and rescue, coastguard and surveying work.
"We are finding that more Governments, NGOs, navies and coastguards worldwide are under pressure to plan disaster relief operations. Global warming and rising sea levels are a huge issue for many countries."
Capable in emergencies
The 8m long 995ED can perform over debris, weed, mud and ice in shallow rivers or tidal waters, offering an immediate response after flooding and tsunami events where boats cannot be used and the cost and limited capacity of helicopters is prohibitive. The hovercraft has capacity for two stretchers and can carry a payload of just under 1t.
In addition to countries looking to prepare for the increased threat of flooding caused by global warming and rising sea levels, Mr MacLeod-Ash said demand for hovercraft has also been driven by the defence sector as naval and military customers look to protect coastal and in-land waterway communities from terrorist and drug-gang threats.
By Rebecca Jeffrey