A cutter head shaft bearing inspected after ten years and more than 100,000 hours of dredging silt, sand, rocks and stone has been found to have emerged completely unscathed at a Dubai drydock.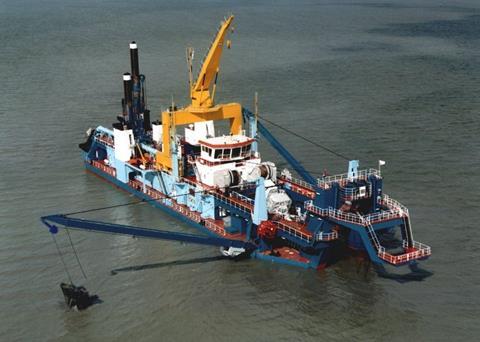 Upgrade works underway on the Dubai based National Marine Dredging Company's (NMDC) heavy duty cutter suction dredger Al Mirfa included an inspection of the Thordon Composite bearing installed on the vessel a decade ago and found it to be in perfect working condition.
Maarten Jansen, Thordon Bearings' regional manager said, "The water lubricated Composite bearing was installed in 2007 to the Royal IHC built vessel, a 97m cutter suction dredger. These dredgers operate in some very tough environments which require a tough, durable bearing capable of withstanding the excessive wear and tear encountered during dredging operations. These vessel types place inordinately high loads on the cutter shaft bearing which, in the past, often resulted in the replacement of traditional greased bronze and rubber bearings every six to eight months. That the Thordon solution didn't need replacing after ten years of heavy duty service is indicative of the durability and robustness of the materials we use in all our polymer bearings."
Composite bearing wear rates in the abrasive conditions most dredgers operate are typically half that of rubber bearings, reducing maintenance downtime over the life of the vessel. But performance was not the only reason why the dredging sector has moved away from traditional bearing materials.
"With the emergence of more stringent environmental regulations in the late 1990s most dredgers are now fitted with water lubricated cutter shaft bearings, added Maarten Jansen. "Dredgers have to operate in some very ecologically sensitive environments and owners cannot risk polluting seas and sediments with grease and oil. For dredger owners, a water lubricated cutter shaft bearing is often a key factor in being awarded these sensitive area projects."
The actual bearing surface is a black homogeneous material called GM2401 which is fused to a stiff, high strength polymer sleeve to provide unprecedented performance and environmental safety. They are available for a wide range of shaft diameters in both tube and stave configuration.
The upgrade of Al Mirfa includes the installation of the latest version of the IHC Dredge Profile Monitor and Automatic Cutter Controller along with the installation of a dredge fleet monitoring system. NMDC opted to install the most recent versions of these automation systems to ensure its vessels are fully up to date and to enhance the efficiency of their operation. Works on Al Mirfa are scheduled for completion in the first half of this year.
By Larz Bourne