Dorchester, UK-based, Tritex NDT has launched its new Multigauge 5300 GRP Thickness Gauge which has been specifically designed for marine surveyors to check for osmosis, blistering and delaminations in GRP (fibreglass) hulls.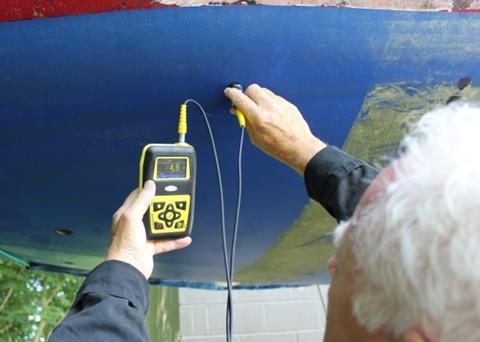 GRP measurement has traditionally been difficult to achieve but Tritex NDT says it has developed its gauge to use a single echo technology with a special probe. The gauge is based on the recently launched Multigauge 5650 Surveyor gauge which measures both steel and GRP by simply changing the probe, which has proven to be very popular among surveyors.
The new Multigauge 5300 has a large modern colour display and an easy to use clear graphic menu. It has been designed in line with Tritex's concept of Simple, Accurate and Robust. Intuitive menus allow for easy navigation whilst the gauge has added features to improve accuracy.
All probes have Intelligent Probe Recognition (IPR), which automatically adjusts settings in the gauge according to the probe connected, resulting in a perfectly matched probe and gauge for enhanced performance.
Only single crystal probes are used, which Tritex NDT claims have a number of advantages when measuring on curved surfaces. The new Multigauge 5300 is supplied as a complete kit, ready to use, with a 3 year warranty and free calibration for the life of the gauge.
By Jake Frith