Guidance Marine picked up the Dynamic Positioning 2017 award at the Offshore Support Journal Annual Awards for its targetless sensor.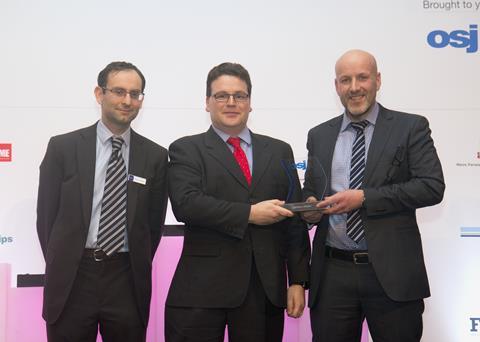 RangeGuard is the first sensor developed by Guidance Marine that does not use physical targets, it uses radar reflections from its surroundings to calculate precisely the vessel's range to the nearest object in its field of view.
Jan Grothusen, CEO of Guidance Marine, said: "It is the first time ever we have brought targetless position sensing to the local position reference market. We are really proud that our innovation has been recognised."
Combining the information from two sensors allows range and bearing to be calculated and input into the dynamic positioning (DP) system of a vessel to give the first targetless DP local position reference sensor (PRS).
The system has been installed on-board the Windea La Cour, which collected the Offshore Renewables Award.
Mr Grothusen added: "We love innovation and high-tech, but as always technology on its own can't win. You need fantastic partners, so I would like to thank our integrator partners on this particular project, Marine Technologies and our end customer Bernhard Schulte who have already won with the Windea La Cour where RangeGuard system is pioneering targetless positioning in the DP world."
More than 4,000 votes were cast across all categories at the Offshore Support Journal Annual Awards, attended by more than 500 delegates, in London.
The Lifetime Achievement award was presented to Johannes Østensjø for his longstanding commitment to offshore vessel ownership and services.
Guidance Marine's RangeGuard and RadaScan systems are currently being trialled on-board his Ostensio Rederi vessel, Edda Ferd.
By Alice Mason