Hamburg Port Authority (HPA) is converting four of its workboats for gas-to-liquid (GTL) fuel propulsion after tests with the technology on the workshop boat ''Carl Feddersen'' proved positive and demonstrated "significant" emission reductions.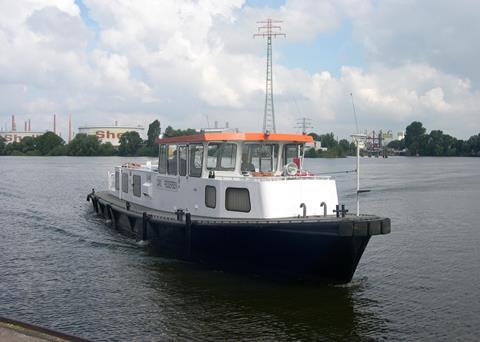 The fuel tests were conducted by HPA, Shell and the independent test institutes SGS Nederland and the German engineering concern m+m schlott. They were part of an ongoing HPA management programme designed to replace ships and floating gear with improved, low-emission newbuildings and eco-friendly fuel systems.
Karsten Schönewald, head of HPA fleet management, said "because of the positive test results we have decided to introduce GTL fuel immediately as a first step on four of our ships. ... That makes us pioneers in the use of GTL fuel in Hamburg".
He said GTL technology was "a good alternative" to other systems for HPA and also suitable for reducing emissions in older vessels and engines. He said neither engine refits nor investment in tank infrastructure were required with the technology.
HPA reported that comparison trips had been undertaken with the 37 year-old, 17.7m long Carl Feddersen, driven by a MAN D 2842 LE 419 engine of 440kW, using standard Diesel fuel and Shell GTL fuel. The tests had shown "significant" reductions, with GTL fuel particle emissions down 52.7% and nitric oxide emissions down by 10.5%, it said.
Shell said GTL technology "converts natural gas – the cleanest-burning fossil fuel – into high-quality liquid products that would otherwise be made from crude oil". It said the products were also colourless and odourless and contained almost none of the impurities found in crude oil.
The four HPA workboats selected as the first to be fitted with GTL technology in Hamburg are two inspection and supervision boats – the 19.6m Hafenkapitän and the 16.8m Hafenaufsicht. Built in 2012 and 2014 they have MAN D 2842 LE403 Diesels. The other boats are the 44 year old, 21.8m tug Deutz Diesel driven Heinrich Hübbe and the 41 year old, 15.1m launch Bunthaus. Heinrich Hübbe sank in the Elbe in 2013 but was raised, repaired, got a new engine and resumed service. Class society DNV GL is supporting the HPA efforts to pioneer GTL fuel.
Meanwhile the Hamburg Senate has said HPA will also take over the running of the city's municipal workboats as of July 2017, integrating them into the existing port boat pool as part of a move to modernise the city's entire fleet. The HPA currently operates a port fleet of 31 vessels, including surface sounding vessels, pilot vessels and ice breakers. Fire-fighting vessels and harbour police boats, as well as launches and bridge inspection vessels from the municipal fleet will be added next year after which HPA will operate a total 49 vessels.
By Tom Todd