Port infrastructure development projects in Germany's biggest universal seaport Hamburg are costing about €200 million this year with cruise handling facilities and bridges drawing current attention.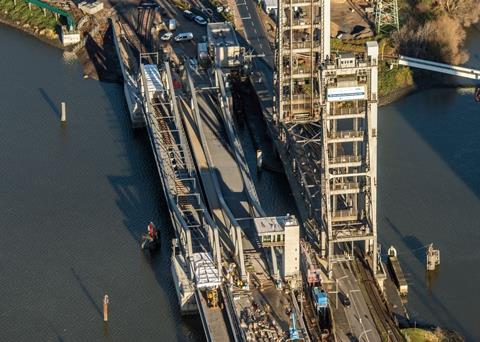 Hamburg Port Authority (HPA) Board Chairman Jens Meier said about €227 million had been spent last year and that investment was at about the same level this year with port infrastructure remaining a main focus of city investment.
Increasing costs for complex port construction projects prompted recent comment from the Hamburg Senate. That followed Opposition criticism of cost planning last year. The Senate has promised better planning of projects and more spending transparency.
Among the important projects this year, Meier mentioned the introduction in June of a new on-shore power supply facility for cruise ships at the Altona Cruise Terminal. He said that project, part funded by the EU and Berlin, was "technical virgin territory" and singled out its high-tech cable power transfer system.
Meier said on-shore power supply would also be introduced at the port's third cruise centre in Steinwerder (CC3), completed in 2015. He described CC3 as a "spot-on" development which had laid a solid foundation for further cruise sector growth in Hamburg.
Hamburg's port bridges are also news highlights. Expected to open to traffic in summer after reported spending of about €173 million since 2011 is the giant new Rethebrücke bascule bridge.
Under build since 2011 by a consortium led by Hochtief, the double-section, two-wing draw bridge has a span of 104.2 meters between pivot bearings, making it one of Europe's largest bascule bridges. Its railway bridge will be the biggest in Europe.
The Rethe bridge will span a 64m wide shipping channel and have four lanes for road traffic and one track for rail traffic. Estimates are that more than 7,000 trucks and cars will use it every day while 30 goods trains will pass over and about 40 ships pass under it daily.
A similar lift bridge – the Kattwyk Railway Bridge - is not now expected to open before 2020. It will span the railway and the port's Kattwyk dam. Construction of bridge abutments was under way this year with steel construction, drive technology and track construction to follow from 2017. Cost is estimated at around €250 million – well up on an originally estimated €208 million in 2014 when work started.
The final part of road maintenance, corrosion prevention and waterproofing over 1.5kms on the port's landmark Köhlbrandbrücke was underway in the spring and reportedly lasting until about November.
The bridge, built in 1974, about 3.6kms long overall and 53m above the Elbe is the port's most important east-west link and used by more that 36,000 vehicles a day – a third of them trucks. Renovation is an ongoing job.
By Tom Todd