An unusual hybrid workboat for the Port of Hamburg is under build at Germany's Hitzler Werft, reports Tom Todd.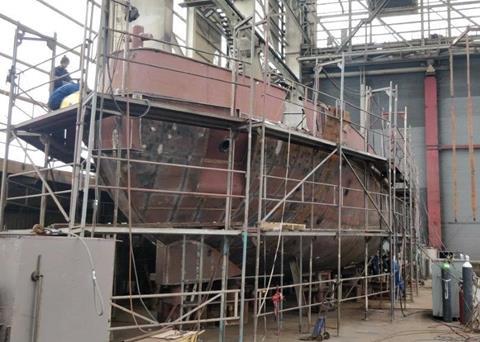 The boat, for the Hamburg Port Authority (HPA) has already been named Chicago and is a 25m loa by 8.5m sea/riverbed levelling and scouring vessel drawing 2.6m.
JPA spokeswoman Julia Kück told Maritime Journal it will be only the second boat of its kind for the HPA, which already operates the 17 x 4.58m levelling vessel Otto Stockhausen. It was built more than 60 years ago and has a 280kW MAN D 2876 LE 406 engine. Chicago will however be "significantly more efficient and also an extremely eco-friendly" boat which will "tackle most of Hamburg's underwater levelling work", she said.
Julia Kück said Chicago was for delivery by Hitzler, upstream on the Elbe, at the end of January 2022. It will join the Flotte Hamburg, created in 2017 to group special boats and other floating equipment in service with port authorities
The Flotte Hamburg is a city-owned shipping company currently controlling about 50 vessels. They include a range of specialist boats in service with the HPA, the Hamburg police and fire brigade and the Hamburg state authority responsible for road, bridge and water areas maintenance.
With a stipulated service life of 25 years and with a crew of two, Chicago is designed for multi-purpose coastal, estuary and inland waterway operation. Its main job will be to maintain water depths and seabed conditions, scouring and levelling. However it will also be used by HPA for maintenance work, water depth assessment and towage and materials transport on the Elbe North Sea estuary and river and in the port of Hamburg.
The newbuild will have two Caterpillar 500kW C4.4 ACERT engines providing 10 knots and a Caterpillar 99kWe C4.4 ACERT auxiliary diesel. It will also have two 60kWe Buchele electric motors which HPA said would provide two hours of pure electric drive at six knots.
For its main job it is being equipped with a 9.7m wide silt plough weighing 3.7 tons. With a listed 15kN bollard pull and a swing frame it will also boast a 1.2m diameter moonpool and space on board for a single 10ft or 20ft container.