The new deep-water port of Bronka on the outskirts of St Petersburg on the Southern bank of the Gulf of Finland is being built near the municipality of Lomonossov and it's set to be the latest partner in Port of Hamburg Marketing.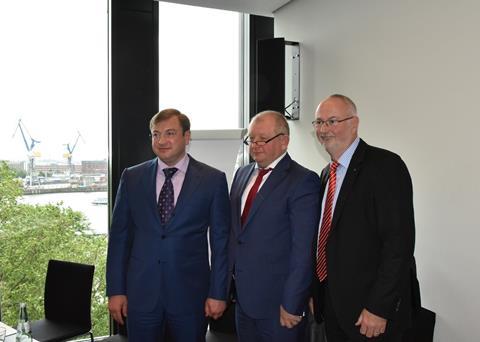 The first stage of construction of the new multi-functional port will commence operations in September 2015. The multi-functional handling facility comprises terminals for handling containers and Ro/Ro cargo, along with a logistics centre for packing and warehousing services. Covering a total of 107 hectares, the container terminal offers five berths on quays extending for 1,176 metres. With a quay length of 630 metres sufficient to permit handling of three vessels simultaneously, the Ro/Ro terminal covers 57 hectares. On completion of the first stage of construction, annual handling capacity will total 1.45 million TEU per year at the container terminal and 260,000 units at the Ro/Ro terminal.
Around 400 million euros have so far been invested in building the new port. "Bronka is a public-private partnership project, with an inflow of public funds in addition to private sector funds. We are not concentrating solely on handling seaborne containerized and Ro/Ro cargo, but also see excellent opportunities for development in establishing logistics services that generate added value in the purpose-built logistics zone located close to the Port of St. Petersburg.
With its very good open sea access, rapid and efficient handling of imports and exports, and its high-performance hinterland road and rail links, Bronka will produce significant relief for St. Petersburg as Russia's largest Baltic port. Even against the background of the current trade sanctions, with completion of the first stage of its construction Bronka is starting up at the right moment. The new port will develop in stages over the next few years. With a total of 207 hectares of building land, it offers optimal conditions for growth in Russia's seaborne cargo handling," said Dmitry Mikhaltschenko, Managing Director of the Port of Bronka.
With water depth of 14.4 metres at the first stage of construction, the Port of Bronka will be handling post-Panamax vessels that will also be able to reach the port safely in the winter months via the recently constructed canal linking it to the sea. Availability of adequate icebreaker capacity for keeping access to St. Petersburg open for shipping will also be of importance here. It is planned that the multi-functional Bronka handling facility should enter service in mid-September.
Dmitry Mikhaltschenko and Alexei Shukletsov, the Port of Bronka's two joint managing directors, see Bronka as having excellent development prospects. It lies at the gates of St. Petersburg and is very easily accessible by sea, while also being optimally linked with its Russian hinterland by direct high-performance road and rail links. Hamburg is today already of great significance for Russia's seaborne foreign trade and closely connected with the Baltic region via the Kiel Canal. "Membership of Port of Hamburg Marketing opens up superb opportunities for us of building up contacts with shipping, transport and logistics companies and importers and exporters in trade and industry. We look forward to our cooperation and joint events with Port of Hamburg Marketing. Initially we shall concentrate on rapidly making the deep-water port of Bronka with its wide range of cargo handling and logistic capacities widely known internationally. Port of Hamburg Marketing will be supporting us in that," explained Dmitry Mikhaltschenko.
The Port of Hamburg reported total throughput of 12.5 million tons in seaborne cargo traffic with Russian ports in 2014. In the same year, altogether 662,000 standard containers (TEU) were handled between Hamburg and ports in Russia. Even today, 14 feedership companies offer 20 liner services for container transport between Hamburg and the Russian ports of St. Petersburg, Ust-Luga, Kronshtadt, Kaliningrad and Arkhangelsk.
"We are delighted that with the Port of Bronka, we have been able to gain a new Baltic seaport as a member. Against the background of Russia's significance for the Port of Hamburg's seaborne foreign trade, we see points in common for marketing activities. Both sides will profit there from targeted networking at events and trade fair showcasing in markets that are important for both port and logistics centres," said Ingo Egloff, CEO of Port of Hamburg Marketing.
By Jake Frith