Scottish marine civil engineering consultancy Arch Henderson has been involved in design and project management of the Dales Voe heavy lift quay, the above-ground supports and the decommissioning pad facility for over 8 years.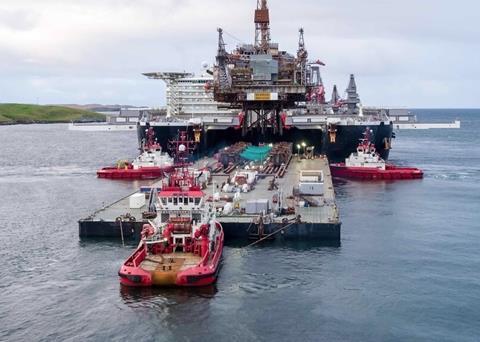 The project culminated in the 14,200 Tonne Ninian Northern Oil Platform being successfully slid ashore to commence decommissioning. Up to 97% of the 47-year-old platform will be recycled.
The Ninian Northern Oil Platfrom was installed 100 miles north east of Shetland in 1978 and at its peak produced over 90,000 barrels of oil per day, and ceased production in 2017. The platform was brought to Shetland on the world's largest construction ship, the Pioneering Spirit. The event generated a great deal of interest from local people who witnessed the arrival of the 378 metre twin hulled ship that dwarfed the surrounding landscape and the accompanying towing vessels. It was then offloaded onto the Iron Lady, a 200m x 57m floating barge, before then being slid ashore over the Dales Voe South quay into a newly constructed decommissioning facility.
Dales Voe's sheltered deep harbour, together with its close proximity to the oil fields in the North Sea, was considered to be the ideal place to set up a decommissioning base. Arch Henderson designed the UK's strongest quay which is capable of withstanding loads of 60 Tonnes per square metre.
Visit Arch Henderson LLP at M&CCE 2021 (Co-located with Seawork) on stand MC45