The Port of Leith recently welcomed the arrival of eight onshore wind turbines as part of the 16MW Howpark Wind Farm to be located in the Scottish Borders.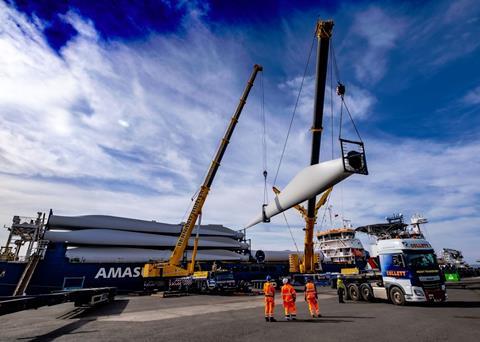 In collaboration with heavy lift specialists Collett Transport, the turbines arrived aboard the 108 metre EEMS Dublin cargo ship into the Edinburgh port from Esbjerg in Denmark.
Using the port's multi crane lifting equipment and experienced quayside team, the 64 turbine parts including blades and tower sections were taken off the vessel and transported by Collett's specialist vehicles to the port's onsite, bespoke renewables storage yard.
Kenny Williamson, Deputy Port Manager at The Port of Leith said: "It is great to see the Port of Leith busy with onshore renewables. Projects like these demonstrate our flexibility and capability to handle renewables project work. Working with the team at Collett, this ensures that we are able to move the large parts safety from the quayside to our new renewables lay down area."
By Jake Frith