The latest of an order of fast patrol boats for Qatar has been undergoing seatrials. The Hercules 75 has been built to a design by BMT Nigel Gee, using Gurit composites, by Ares Shipyard in Turkey.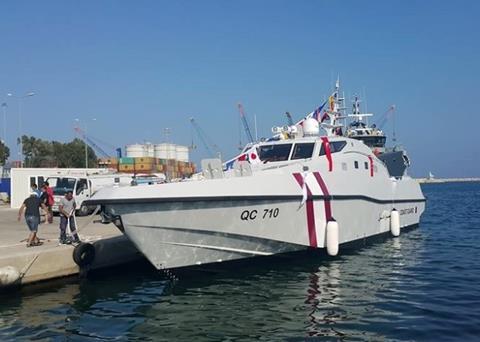 The trials have been hailed a success with the vessel achieving a 38.5 knots cruise speed. This year a total of four boats are scheduled to be delivered. The entire order, which was signed in 2014 covers five vessels at 24m, ten boats at 34.5m and two 48m boats.
Gurit Composite Engineering was involved in this project right from the start at early design stage together with project partners BMT Nigel Gee Ltd, naval architects, and Ares Shipyard
Gurit provided the full structural design service from developing the initial concept of the vessels to working with Ares Shipyard on providing shop floor drawings and answering questions during the approval process.
As part of the engineering design, Gurit also undertook finite element analysis on the composite waterjet for the 48m vessel to ensure that the intake avoids the natural frequencies from the waterjet's impeller.
The boat was engineered to naval classification requirements of Turkish Lloyds whilst meeting the strict weight targets set by BMT Nigel Gee and hard specifications imposed by Ares Shipyard, maintaining a structure that would be quick and simple to build.
By Jake Frith