Royal IHC has entered in to a Memorandum Of Understanding with Canyon Offshore, a U.K. subsidiary of USA-based Helix Energy Solutions Group, to work towards an exclusive arrangement to jointly bring the Hi-Traq trenching vehicle to the market.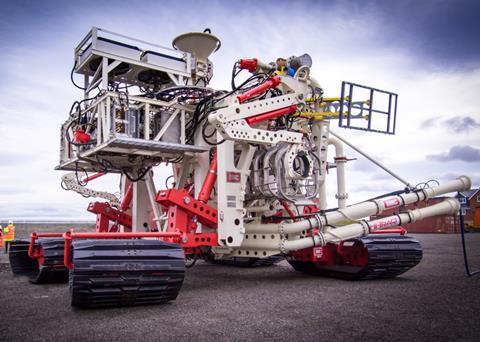 On conclusion of the agreement between the parties, Canyon would have the exclusive right to use the first Hi-Traq M1600, an asset built for both mechanical cutting and jetting operations. The modular asset would be available either as a standalone trenching spread on a client asset (vessel or barge for shallow water operations) or on board one of Canyon's construction and trenching support vessels.
Following years of research and development, IHC built the Hi-Traq to bring forward the next generation of trenching vehicle to the market. The vehicle offers enhanced manoeuvrability and the powerful tooling will enable safe, efficient burial in a range of seabed conditions. The Hi-Traq vehicle has recently completed onshore cutter testing and is entering final commissioning prior to being mobilised for sea trials. Canyon, with a strong track record in trenching, was the ideal partner to work with IHC to bring together both engineering, design and build knowledge with operational expertise.
IHC will also be providing further services to Canyon including engineering, modifications and upgrades to existing Canyon equipment.
By Jake Frith