Wardle Marine Services (WMS) has become a distributor for High and Dry Boatlifts.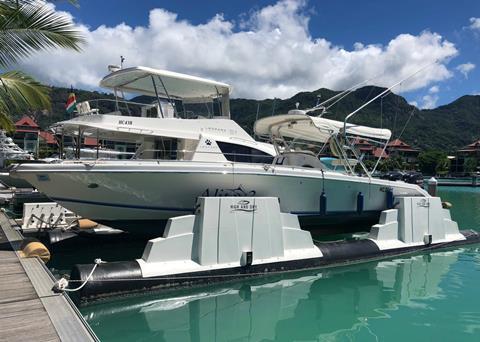 Having researched the market for larger boatlifts, the WMS team found High and Dry had a broad reach, not only at its headquarters in South Africa, but also supplying Australia, USA, Israel and the Seychelles.
WMS was keen to get involved and managing director, Oliver Wardle, contacted High and Dry's head office to discuss opportunities with Jarrod Faber, High and Dry's sales consultant. "Over the last few years we have had a few enquiries for larger boatlifts than we could provide, and finally we have found a reputable supplier with a stunning product that is robust, durable and affordable," said Mr Wardle.
The lifts are said to have a foolproof design using siphoning and flooding of the floatation bins, with a simple addition to keep the boat centred during launch and recovery.
Ciarran Minns, marketing manager for WMS, said, "We are so proud to have been made a distributor, and extremely pleased that all the searching paid off with such a respectable brand and excellently engineered product.
"We can't wait to introduce High and Dry Boatlifts to the UK market and know our customers will be as happy with new lifts as they are with our current range.".
Wardle Marine Services will still be selling its Boatlift, Flexiport and Jetports while showcasing the new High and Dry Boatlifts for customers needing a larger model.
By Rebecca Strong