Charles Brand, new exhibitor at Marine Civils at Seawork, recently secured a contract from the Department of Infrastructure to build a £17 million tidal flood alleviation scheme for Belfast, Northern Ireland, UK.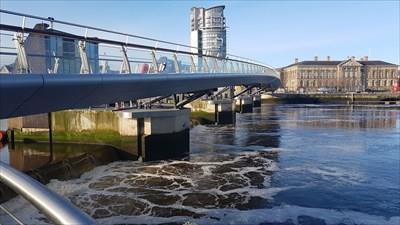 More than five miles of flood defences, stretching from Cutters Wharf to Belfast Docks, are to be the basis of a long-term approach to tidal flood risk management in Belfast.
Niall McGill, managing director of Charles Brand, said: "We're delighted to have secured this prestigious scheme here in the heart of Belfast. Going back to the 1960s, Charles Brands' legacy is steeped in marine civil engineering in Northern Ireland, and it's fitting that the Belfast tidal flood alleviation project commences near the recently completed Lagan gateway project in Stranmillis."
Minister Nichola Mallon signed the documents awarding the contracts in September 2021. The detailed design and construction stages are estimated to take at least 18 months to complete with works commencing this spring. Site clearance & investigation works in the Queen's Quay area at the Lagan Weir began this week Tuesday 1 February.
Charles Brand marine experience can be traced back to 1829 and includes all types of marine construction from simple rock armour schemes to complex breakwaters and harbour refurbishments.Working either as main contractor, offering a complete design and construct solution, or alternatively as a project partner, delivering the civil engineering works, each scheme is project managed, enabling manpower, plant and logistics to be carefully planned, ensuring seamless and efficient construction to the highest standards throughout the programme.
Recent years have seen Charles Brand secure and successfully deliver a £9.5m contract for DP World London Gateway - a state-of-the-art deep-sea port and rail termina