Work has started on the latest stage in the extensive flood defence work that is taking place along the waterfront of the River Humber, UK.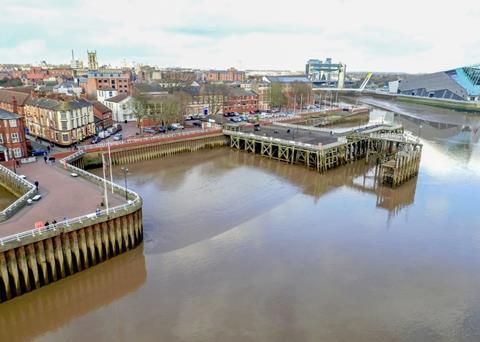 Overall this flood defence project is scheduled to cost £42 million and now the focus of the work has moved to the city's historic river frontage close to the point where the River Hull flows into the Humber. Work in this area has seen the construction of a lifting flood barrier on the River Hull and the raising of the flood walls along the river frontage.
The current work being undertaken involves the construction of a new steel sheet-pile wall that will be built 2.5 meters into the estuary. This will be located in front of the existing edge of the Victoria Pier and this will help to shore up the quayside area as the existing piles of the pier need to be replaced.
This critical work is essential to maintaining and improving Hull's flood defences, and is being carried out in accordance with government guidelines for safe working due to the Covid-19 outbreak.
The work is taking place as part of the Environment Agency's Humber Hull Frontage flood defence improvement scheme which will reduce the risk of tidal flooding to 113,000 properties in the city. Building work has been is under way at a number of locations along the waterfront at Hull, including St Andrew's Quay retail park, St Andrew's Dock, Albert Dock and Victoria Dock Village.
Led by the Environment Agency, the Humber Hull Frontages scheme has been an opportunity to review and improve a 19 kilometres stretch of tidal flood defences along the north shore of the Humber Estuary to better protect homes and businesses that are at risk of flooding in Hull.
Helen Tattersdale, the project manager at the Environment Agency, commented "Hull has a long history of being flooded from the Humber Estuary. This was seen most recently in December 2013 when a tidal surge flooded more than 260 properties when the city's defences were overtopped."
The work is being undertaken by contractor BMM JV which is a joint venture between BAM Nuttall and Mott MacDonald and all sections of the Humber Hull Frontages flood defence improvements scheme are expected to be completed in spring next year.
By Dag Pike