The designers behind a new self-contained, in-water hullwashing plant say it will revolutionise and green traditional careening practices.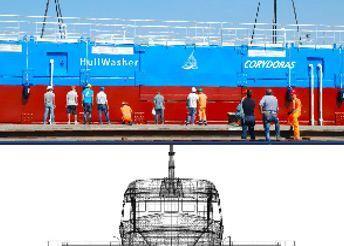 Italian engineering and design company IPS Morace has designed the Morace HullWasher (HW), suitable for hulls from LOA 8m and upwards. HW is designed to use efficient automated technology and reduce bio-fouling, chemical residue and fuel consumption.
The plant "endorses and is totally in line with EU and UNO Sustainability Goals 2030," said IPS Morace.
Three systems
IPS Morace explained that the plant is made up of three systems. The hull washing system consists of a floating dock, washing machine and waste water extraction and filtration system.
The Auxiliary Management System, a preparatory element to the process, consists of a floating management ballast system. The Boat Elevation System, an essential procedural adjunct (for manual boat underside interventions), consists of a robotic lifting arms system.
Robust filtering
The HW filtering system eliminates excessive toxic coating and safely manages resultant waste by extracting, filtering, capturing and processing all ≥20µm detritus released. The HW filtration mechanism consists of an integrated system of self-cleaning filters, equipped with a series of suction pads operated automatically by an electric motor.
The rotating shaft system, equipped with telescopic runners, ensures optimal cleaning of the filtering surface.
Water eliminated from the filter during self-cleaning is sent to a bag filter system, capable of maintaining the same filtering performance as the self-cleaning filters.
By Rebecca Jeffrey