While huge strides continue to be made in improving marine safety, human error remains, by far, the most important factor in marine liability claims and losses, according to Allianz Global Corporate & Specialty (AGCS) in its Global Claims Review: Liability in Focus.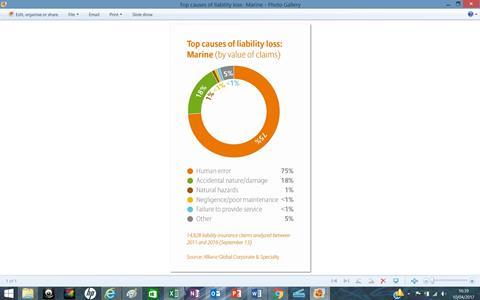 Human error has long been regarded as a major cause of incidents in the shipping sector. It is estimated that between 75% to 96% of marine accidents can be attributed to human error. Such incidents also rank as the top cause of liability loss, driven by the high costs that can be associated with the impact of a major event, such as: Wreck removal (which is becoming more complex and expensive, primarily due to larger ships and environmental concerns), passenger and crew liabilities and pollution and litigation costs. The Costa Concordia and MV Rena groundings are two well documented incidents caused by human error which have resulted in significant liability losses over the past five years.
Other major causes of liability loss identified in the report include: crew injuries, subsequent loss of income and expenses such as medical costs; damages to cargo while engaged in handling activities; leaks at port terminals resulting in environmental damages; vessel collisions leading to pollution spills; and accidental damage to key infrastructure, such as natural gas pipes, for example.
The AGCS Global Claims Review analyses over 100,000 corporate liability insurance claims (including 14,828 claims from the marine sector) from more than 100 countries, with a total value of €8.85bn (US$9.3bn), paid by AGCS, and other insurers, between 2011 and 2016. Over 80% of losses arise from ten causes.
By Jake Frith