Limitations for small maritime vehicle autonomy are being set by human trust rather than technology development, a technology specialist has said.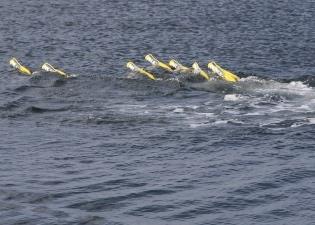 Whitney Million, chief executive officer at UUV Aquabotix Ltd, told Maritime Journal that he anticipates more autonomy and decision making integrated in these vehicles, but cautious treatment is acting as a barrier to progression currently.
He said: "Technology is evolving to a point where abilities are exceeding the levels of trust of users of those systems."
However, he expects usage to grow with confidence, adding: "I expect over the next decade as human in the loop activities are conducted (whereby an operator is working with an unmanned system and allowing it to operate in autonomous modes but ultimately keeping control and ability to override or redirect a mission) the levels of trust in these systems will begin to evolve.
"This should allow greater exploitation of the technology developments and more innovation in specific use cases as well."
More accessibility
Mr Million believes that small unmanned maritime vehicles will become more accessible to the general public, as well as governmental, research, and commercial users, because of technology advancements and improvements in designs.
"At lower price points, I would expect to begin seeing more recreational use of these vehicles similar to what we are now seeing in the aerial drone space," he stated.
He added: "As the technology becomes more accessible in public domains, ancillary products should also begin to emerge and evolve at an increased rates. This could be data storage and streaming options, wearable gear, etc. Additionally, I expect this will create a larger demand for counter UUV/USV technology."
Aquabotix last month signed a Memorandum of Understanding (MoU) with Thales for strategic cooperation for the research, design, and development of a rapidly deployable Mine Counter Measures (MCM) and military hydrographic autonomous system mission solution.
By Rebecca Jeffrey