Team Britannia's superboat, Excalibur, has reached another milestone with the installation of its 'hurricane proof' glass.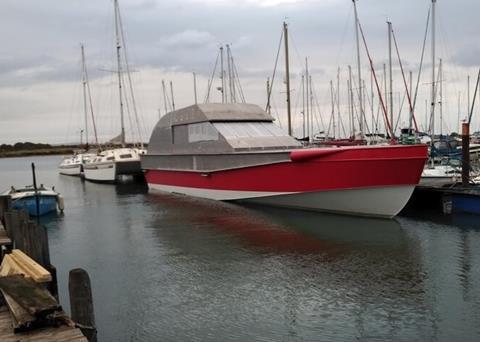 The special low iron glass from Scotland - toughened, heat soaked and laminated with a special ionoplast interlayer - took a week to fit, making the revolutionary 80ft semi-wave slicing vessel watertight.
Team Britannia is a multi-million-pound British bid to design and build the fastest and most fuel-efficient semi-wave slicing superboat to circumnavigate the globe for the much-coveted UIM world record, currently held by the New Zealander Pete Bethune at 60 days 23 hours 49 minutes.
The glass was made by Independent Glass, based in Glasgow. The firm is one of the largest glass processing companies in the UK, operating from three sites in Glasgow and one in Mansfield.
Using their state-of-the-art equipment they produced the low iron super tough glass for extra optical clarity.
John Devine Sr from Independent Glass explains: "Toughened glass is up to five times stronger than float glass of the same thickness. When it breaks, it fragments into small blunt-edged pieces. The glass is toughened by heating in a furnace to approximately 600 degrees followed by rapid cooling. This creates high compressive stress on the outer surfaces and tensile stress internally. In rare cases, toughened glass can break due to the presence of nickel sulphide inclusions within the glass. Heat soak testing of toughened glass further reduces the possibility of such breakages.
"The glass is then laminated by bonding with an interlayer using heat, vacuum and pressure inside an autoclave. Laminated glass is held together by the interlayer when broken. The specialist ionomer interlayer was initially developed for hurricane glazing and large missile testing requirements. Compared with standard PVB interlayers commonly used in road vehicles, it is much stronger, 100 times stiffer, offers improved weather resistance and performs over a wider temperature range."
He added: "We are very happy to be working with Team Britannia in their world record bid and delighted to be providing Excalibur with this incredibly tough glass."
By Jake Frith