A new rating for hybrid vessels with diesel power is in development to help marine stakeholders meet hybrid emissions regulations.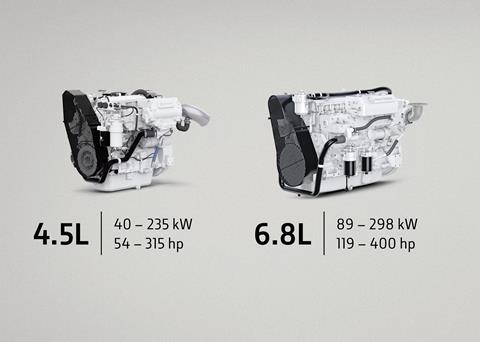 John Deere will release a PowerTech 6090SFM85 rating with a 242kW variable speed rating at 2000rpm. It will meet US Environmental Protection Agency Marine Tier 3 and International Maritime Organization Tier 2 emissions standards and will be certified to E3 propulsion test cycle for commercial applications used with variable pitch or electronically coupled propellers.
To address the market-specific needs of inland waterway applications, John Deere will offer two marine generator drive ratings that are EU Stage V compliant on the PowerTech 4045TFM85 and 6068AFM85 models. The 4.5L rating will be 61kWm prime at 1500rpm and the 6.8L rating will be 117kWm prime at 1500rpm. Both prime ratings include a 10% overload capability and conform to ISO 8528 prime power.
Type approved
The 4.5L and 6.8L engines feature a water-cooled exhaust manifold and turbocharger. Both engines are type approved by the following Marine Classification Societies: ABS, BV, CCS, DNV-GL, and LR.
The EU Stage V generator drive ratings below 130kW are anticipated to be available to order later this year, with production set to begin in early 2020.
John Deere will release new emission label options for 50Hz generator drive ratings for the PowerTech 4045TFM85, 4045AFM85 and 6068AFM85 engines, which will comply with China Stage I marine emissions standards. The new emission label options are expected to be available in early 2020.
By Rebecca Jeffrey