A shipyard in the Netherlands has delivered the first of two hybrid multi-purpose surveillance vessels to Blue Octagon/ Nigerian Maritime Administration and Safety Agency (NIMASA).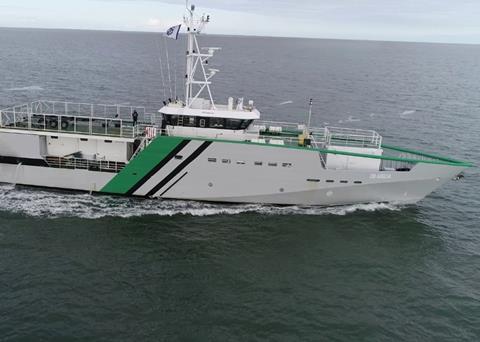 Shipyard De Hoop's delivery took place in the Eems harbour near Delfzijl. Having successfully completed her sea trials in mid-October this year, De Hoop's yard number 457, named DB Abuja, is now ready to perform her tasks, set by NIMASA, in Nigeria's waterways.
In the final week of November, the second vessel for NIMASA - yard number 459, named DB Lagos, was towed to the Eems harbour for the final stages of completion and sea trials to be performed.
Deep Blue project
The goal of Israeli securities solutions firm Blue Octagon, under the Deep Blue Project, is to assist the government of the Republic of Nigeria, through NIMASA, to establish Integrated National Coastal Surveillance and Waterways protecting solutions, with command and control infrastructure, in the nations territorial waters; within which Blue Octagon will design and implement equipment, Hi-Tech systems and solutions, as well as training and operating periods.
The Deep Blue project is based on an "early detection" approach for High-Tech coastal security. It aims to prevent illegal activity through the shifting of the defensive perimeter away from the maritime frontiers of the Exclusive Economic Zones (EEZ) of the country, by identifying and analysing suspicious activity at the earliest possible moment.
Using a range of sophisticated sensors, Deep Blue creates a multi-layered security grid that is employed by fully equipped special mission vessels.
By Rebecca Jeffrey