While not usually thought of as a particularly sophisticated bit of deck kit, if you want towing pins to last, it's worthwhile investigating the differences.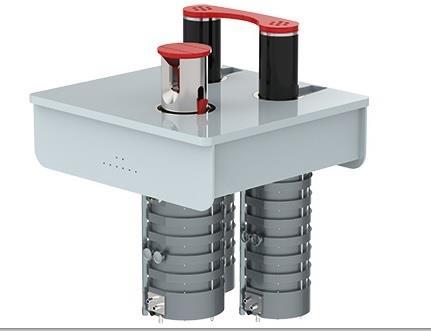 Towing pins are a pretty vital bit of tugboat kit but when not in use, they're usually retracted flush to the deck to maximise workspace, which means they're out of sight, and often, out of mind.
However, some thought should be spared for what happens to them below deck.
R&D manager of Tugpins BV, Kristel Meijer, said that when hydraulic towing pins retract into their below-deck alloy casing, even though the reservoir is filled with lubricant, over time it's almost inevitable that the moving mechanism will suck in a certain amount of seawater.
"And once you get the seawater inside, it's too late – it will start to oxidise," she explained. Internal damage caused by corrosion, she added, "is one of the most common causes of malfunctioning pins".
Therefore Tugpins has developed a valve-based unit, and as a result "our towing pin systems are 100% watertight" says Ms Meijer. It's partly achieved by very high quality, tightly engineered materials, and partly by having an overpressure environment in the casing "so any water that does come in just gets blown out again" she explained. The extending/retracting movement also lightly lubricates the system.
As a result, there's lower maintenance requirements and costs and a longer average lifespan: "It does need to get looked at on the five-year maintenance check... just possibly you'd want to renew the cables, but we wouldn't expect to see any damage to the unit," she said.
The company can deliver systems catering for a maximum load between 5t and 100t. Importantly, the towing pins are custom-made "whether that's a new vessel or a refit" which, along with the high-grade steel, means the footprint "is extremely compact" said Ms Meijer, the S1WP model delivering an SWL of 50 tonnes for a weight of just 710kg. Moreover, the lighter installation will improve the vessel's fuel economy and finally, it is also more eco-friendly than comparable units, since it only uses light, biodegradable oil, instead of the much heavier grease that's used to try to keep the seawater at bay.
The company's R&D hasn't stopped there: its latest development is a new type of pin roller. While the traditional method of hardening pin rollers is by applying nitrate, this only yields a 0.3mm layer. During use this layer wears off and, unfortunately, the underlying material starts to corrode.
However, Marco Beukers of Tugpins explains that a new process uses an induction method rather than nitrate. Although this creates a surface with almost exactly the same hardness (around 52-56 on the Rockwell C scale), the layer is between 4mm and 5mm, that is, "approximately 15 times thicker" said Beukers. Furthermore, as the base material is almost 100% stainless steel, it won't corrode even when worn down.
Therefore this new pin roller has much better resistance against the wear and tear dished out by towing cables and anchor chains - and it will last much longer.
By Stevie Knight