For a country with abundant renewable electric energy an electric powered ferry makes a lot of sense and Iceland's first is now under construction writes Dag Pike.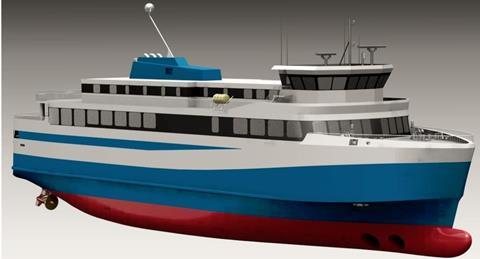 With a length of 70 metres this new ferry, under construction at the Polish shipyard of Crist S.A. will have the capacity to transport 75 cars and up to 550 passengers on the route between Landeyjahöfn on the mainland and the Westman Island, covering the 7 mile route in about 45 minutes. Operated by the Icelandic Road and Coastal Administration, the new ferry will make about 3,600 annual trips in the often rough waters off the south coast of Iceland. Designed by Polarkonsult, the new ferry is due for delivery later this year.
The electrical system developed by ABB will feature a 3000kWh battery pack that will allow the ferry to operate in a fully electric mode for most of time, with onshore charging in both harbours. During particularly challenging weather conditions, when the consumption of battery power may exceed the available energy, the ferry will utilize its diesel-electric generator set.
ABB's power distribution system Onboard DC Grid™ will ensure the high efficiency of the new ferry by allowing the batteries to connect directly to the DC link, which helps avoids losses of power during charging and discharging. Additionally, the system can allow for variable speed operation of the diesel engines, which will result in reduced fuel consumption.
The scope of the ABB supply also includes generators, transformers, switchboards, the Power and Energy Management System (PEMS) and the Energy Storage Control System (ESCS). The ferry will be connected to ABB Ability™ Collaborative Centers Infrastructure which uses remote equipment monitoring and data analytics to enable remote technical support, as well as predictive maintenance and planned interventions.
Crucial to the supporting infrastructure shoreside is the shore power connection to be supplied by ABB which will recharge the battery with a power of 2500kW in about 30 minutes whilst the ferry is in the dock.
"Opting for ABB's electric solutions allows the vessel to meet design constraints. The vessel will be optimized for cleaner operation and reduced greenhouse gas emissions, whilst power is sufficient to navigate some very hazardous waters safely," said Sigurdur Gretarsson, Director of Maritime Division, Icelandic Road and Coastal Administration.